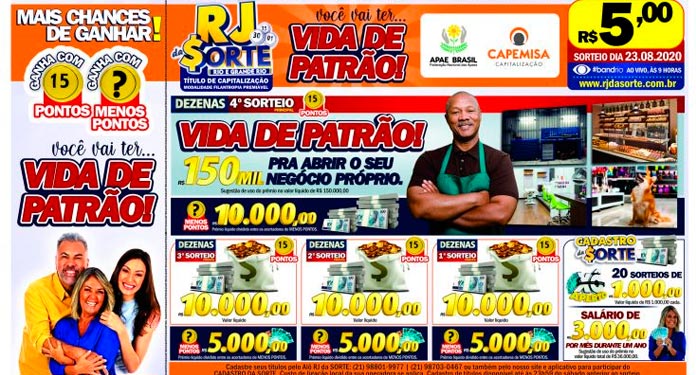 Brazil is expected to reach the highest level of initial entrepreneurs in 2020. The estimate of a recently released survey is that 25% of the country's adult population will be involved in opening a new business by the end of the year.
In a period of economic crisis, still aggravated by the pandemic of the new coronavirus, this data seems even more real because entrepreneurship, for many, is the only possible source of income today. The data are from the Global Entrepreneurship Monitor (GEM), which has been analyzing this market since 2000.
And it was thinking about these people that RJ da Sorte this week launched a special award. In the main draw, whoever gets the 15 numbers right will take home R $ 150,000 to open their own business and have a life as a boss. Those who score less points in the fourth draw, win R $ 10,000.
The draw takes place live, at 9 am, on TV Band Rio, always led by presenters Viviane Romanelli, Carlos Alberto and Aline Malafaia. Another novelty is that, from now on, anyone who wants to review the RJ da Sorte program will have one more chance. TV Max (channels 25 and 525 from NET) starts showing the program live, at 9 am, and also a replay at 6 pm on Sundays.
In the other three draws of the of CAPEMISA's capitalization bonds, three chances will be at stake of taking R $ 10,000 (each) for those who score more points and three prizes of R $ 5,000 (each) for those who score less points. In the 'Cadastro da Sorte', RJ da Sorte will raffle a salary of R $ 3,000 per month for a year and 20 more 'Xô Aperto' prizes of R $ 1,000 each, for those who register or buy online until 08/22. The title costs only R $ 5.
Partnership with PicPay
Now, in addition to being able to make a purchase through the website https://www.rjdasorte.com.br on credit card and bank slip, now the digital title RJ da Sorte da CAPEMISA Capitalização can be paid with credits on PicPay.
RJ da Sorte
It is a premium philanthropy capitalization bond, created by CAPEMISA Capitalização, with an operation authorized by the Superintendence of Private Insurance (SUSEP), an agency linked to the Ministry of Economy, which oversees capitalization bonds throughout Brazil.
The 'RJ da Sorte' is a capitalization bond regulated by the sectoral legislation, in particular SUSEP Circulars nº 569, 576 and 582/2018 and allows the acquirer to allocate the redemptions to APAE – Brazil, to finance projects of the 62 APAEs in Rio de Janeiro. January.