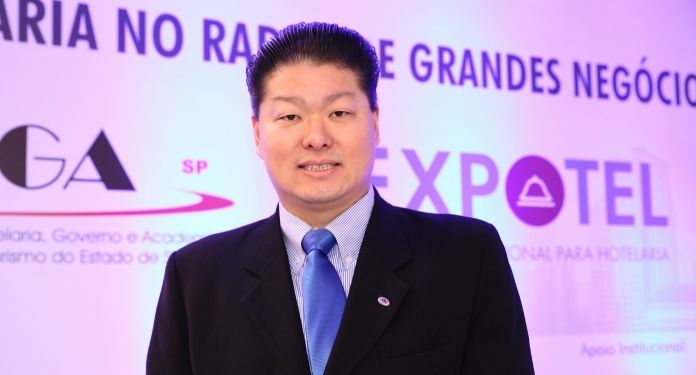 Specialist and Manager of Tourism and Hospitality, International Speaker, and Strategic and Marketing Planning, Bruno Omori is currently President of IDT-CEMA (Development, Tourism, Culture, Sport and Environment Institute). Academically, he holds an MBA in Tourism, Hospitality and Entertainment from FGV, as well as an International MBA from Ohio University, and a degree in Business Administration from Universidade Mackenzie in São Paulo, Brazil. Omori is a prestigious reference in Brazil in all matters relating to the tourism and entertainment sector.
In relation to the multiple positions he has held in recent years, we can mention: Director Director of ABIH-SP; National President of Podemos Tourism & leader of RenovaBR; Vice-President of the Board of Trustees of the SP Convention Visitours Bureau; Vice-President of the Latin American Federation of Tourist Cities; Executive Secretary and Counselor of the State Tourism Council of the State of SP; Director of Hospitality at AMITUR; and Director of FUPE (São Paulo University Federation of Sport), among others.
Bruno Omori spoke exclusively with the iGaming Brazil portal and addressed issues such as the possible approval of the Gambling Regulation in Brazil and its consequences for Brazil.
Check out the full interview with the director of IDT-CEMA
iGaming Brazil – Bruno, what does the approval, on February 24, 2022, of the PL 442/91 of PL 442/91 mean for the Brazilian Tourism sector, having passed with 55% of the valid votes in the Chamber of Deputies?
Bruno Omori – The Tourism sector will benefit the most, because within our sector we have the greatest potential for natural resources for tourism according to the World Tourism Organization. Therefore, Brazil loses a lot of competitiveness, for example in a destination like Ilhabela, which has hotel products as good as those in Cancún. However, in Cancún there are also games and casinos and this strengthens the place because it is more of a gastronomy structure, it is more of an entertainment and hotel structure that games can provide to a destination. Therefore, Brazil will gain a lot in terms of tourism, strengthening tourist destinations within the country and enhancing the dissemination and capture of new demands.
iGaming Brazil – Please estimate the number of jobs of people positively affected by the sector.
Bruno Omori – We can have direct jobs in a Brazilian macroeconomy of around 10 million, but in Tourism, which has the capacity to employ the largest number of people with the least possible investment, that is, with the approval of casinos integrated with resorts, tourist casinos , bingos, Jogo do Bicho, online gambling, sports betting, the creation of new points of sale of equipment such as aparts, hotels, resorts, as well as tourist attractions in general, is greatly enhanced. in these places, the demand is usually 30 and sometimes up to 100% more employees, to strengthen this sector and be well served in terms of gambling.
iGaming Brazil – Is it true that Uruguay, being a much smaller country territorially, receives the same amount of tourists as Brazil per year? Will this situation be reversed when there are casinos and bingos in the country?
Bruno Omori – Yes, in fact Uruguay is a country that is, both in terms of population and territory, much, much smaller than Brazil, managing to have a flow of tourism that is very similar to ours. First, for creating some economic policies related to tourism, but also for having approved casinos and gambling. For example Punta del Este, which is supported entirely by Brazilian tourists, who cannot play in Brazil and end up going there, a nearby country. With a population of 210 million inhabitants, and large consumer centers, Brazil has become a major tourist destination not only for South America, but also for Brazilians themselves to be able to travel and meet and, in addition, enjoy the gambling.
iGaming Brazil – According to the new text, the taxation of gambling was among the most controversial points of the vote. One of the parties, rejected by the deputies, wanted to increase the Cide rate from up to 17% to 30%, with the incidence on gross revenue instead of profit, claiming that the taxation model was very generous with games, with a small rate given the tax burden of other sectors. What do you think about this?
Bruno Omori – In fact, the new text referring to Taxation, like every business (the issue of games and casino is a business) totally depends, first, they have to give a good return on results, that is, for every 100 bets, it needs to have 70, 80% return. And only the margin that actually remains from profitability should be transformed into taxes. Even so, we may have around 20 billion in taxes from gaming alone. And if we throw this into the macroeconomy, we will have a much higher tax rate within several sectors of the Brazilian economy.
iGaming Brazil – Despite the approval of the Chamber and the recurring debate in the Senate, President Jair Bolsonaro has already stated that he intends to veto the bill to legalize gambling in Brazil if the text is sent for his sanction. Bruno, do you think this will really happen? What is the outlook going forward?
Bruno Omori – The approval has already come out of the Chamber, it is already in the Senate, which is the reviewing house, and it should be approved there as well. Our president has already said he will veto it. In fact, yes, he stated that he will veto it, but in Brazil the text being approved in the Chamber, then in the Senate, goes through the presidential sanction, he can veto it or not, and if it happens, it goes back to the National Congress, which can overturn the vetoes. Being a circumstance that can positively affect the Brazilian macroeconomy, speaking of the Ministry of Economy, of Paulo Guedes and mainly with the Ministry of Tourism and Culture, and Sports involved, there will be great weight in favor. Therefore, even with the veto, they understand that the approval of games and casinos in Brazil will bring millions of jobs (about 2 billion), billions of taxes, and almost 70 billion dollars of investments for the macroeconomy (national and international investments).
iGaming Brazil – Another point is the Casinos that, according to the text, can be installed in resorts as part of an integrated leisure complex that must contain at least 100 high-end hotel rooms, places for meetings and events, restaurants , bars and shopping centers. Another condition is that the physical space of the casino must be, at most, equal to 20% of the constructed area of ​​the complex. Do you think that these conditions are valid or perhaps details that will not prevent their execution?
Bruno Omori – We worked a lot with this item, mainly talking to people from the Northeast in small towns. That's why a small number of high-end apartments were left to be contemplated in any tourist destination.
And we have both casinos integrated with resorts that must be located mainly in large centers (São Paulo, Rio de Janeiro, Florianópolis, Brasília, Belo Horizonte or Fortaleza), and there may then be tourist casinos, which will be smaller, and it is even possible to to this part Bingos and sports betting houses and bring new points of sale for tourist developments such as hotels, condo-hotels, resorts, theme parks and so on.
iGaming Brazil – What benefits will it bring, in the legal and tax context, that Jogo do Bicho, bingos and casinos are no longer illegal and will be open to the population, as happens today with lotteries, Mega Sena and Loto. Do you believe that this will give rise to fraud and money laundering as claimed by the opposition?
Bruno Omori – In fact, creating a broad legalization with Casinos, Jogo do Bicho, Bingos, already having sports betting, we will have a first possibility of an entry, of macroeconomic impact generating millions of jobs, billions of taxes and, more than that, we will be able to fight fraud and money laundering.
Today, the opposite happens, today we have fraud and money laundering, currency evasion because of bingos and clandestine casinos that are totally on the sidelines, in the hands of criminals, of people just laundering money. That's why a famous football player was caught red-handed in a casino in the middle of a pandemic, because this establishment didn't have a firefighter license, to operate, nothing, it didn't collect taxes and didn't formally hire, so it was open.
All other legal ones were closed during the pandemic. That's why the great chance for Brazil to eliminate money laundering, corruption and fraud is precisely with the approval of this law.
iGaming Brazil – What comparison would you venture to make between Brazil and Portugal, which has had gambling regulations since 1927. Is it easier when the territories are small or does it have to do with the local culture?
Bruno Omori – Comparing Brazil and Portugal, which has had its legislation passed since 1927, we see that this country currently has several potential destinations due to casinos and gambling, unlike Brazil.
From the moment that Portugal understood that tourism was an economic activity to generate employment and income, and considered it a public policy and a factor of economic development, the Portuguese country grew from just over 2 million foreigners and reached almost 40, 50 million foreigners in 2019, (and even with the pandemic, more than 10 million foreigners), with the potential to grow to 60, 70 million tourists a year in Portugal as a charming destination and working culture, entertainment, working a good gastronomic quality, allied and enhanced by gambling and casinos.