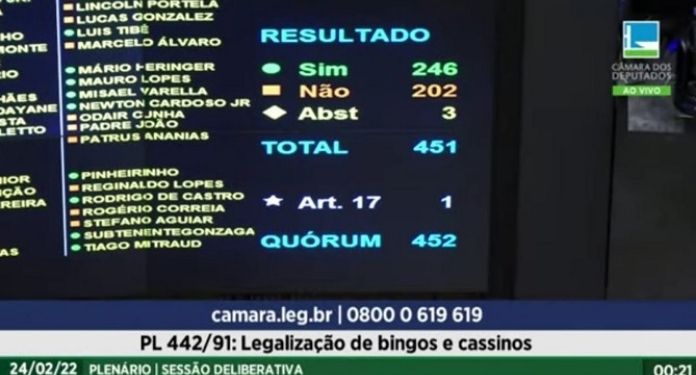 The House plenary approved at dawn on Thursday (23), by 246 votes against 202, the basic text of the project that legalizes betting in Brazil, such as bingos, casinos, Jogo do Bicho, fixed-odds betting, turf ( horse racing) and online games. The highlights, which are suggested changes to the proposal, will be analyzed in another session, at 9 am. After this stage, the project will go to the Federal Senate.
In order to put the text to a vote, the rapporteur, Felipe Carreras (PSB-PE), made a series of changes, but even so, the evangelical bench did not like it, which obstructed the session. During the orientation of the bench, the government released the base, but cited the prerogative of the presidential veto.
The proposal authorizes the practice and exploitation in Brazil of:
casino games;
bingo;
videobingo;
online gambling;
jogo do bicho;
betting on horse racing (turf).
The text revokes a 1946 law that prohibits the exploitation of games of chance throughout the national territory, in addition to provisions of the Criminal Misdemeanors Act that establishes penalties for the practice.
President Jair Bolsonaro (PL-RJ) is against the proposal and has already publicly said that, if the process goes ahead and the text is approved in the Senate, he will veto the measure in full.
The following parties voted against the proposal: PT, Republicans, PSC, PSOL and Patriota.
Advised in favor of the text: União Brasil, PP, PSD, MDB, PSDB, PDT, Solidarity, PTB, Novo, PCdoB and Cidadania.