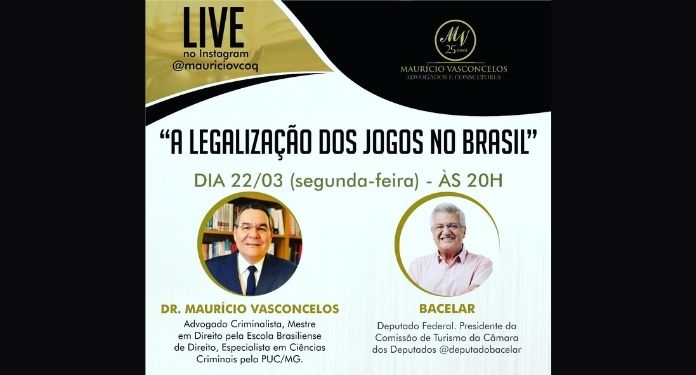 The president of the Chamber of Deputies Tourism Commission (CTur) and coordinator of the Parliamentary Front for the Approval of the Regulatory Framework for the Games in Brazil, federal deputy Bacelar (Pode-BA) participated in a live debate with lawyer Maurício Vasconcelos this Monday. fair, 22, focused on 'The Legalization of Games in Brazil'.
The broadcast took place on Instagram and lasted about an hour. The two participants addressed the serious financial crisis in the country triggered by the pandemic of COVID-19 and the possibility of circumventing this scenario by legalizing the gambling and betting market.
Since taking office as president of CTur, the deputy said that the approval of the Regulatory Framework for the Games is one of his priorities. "Gambling has existed since man began to live in society. That is why we are not talking about a phenomenon from two centuries ago. We are talking about something that has existed for more than five thousand years," said Bacelar.
Bacelar also made a comparison between the current collection of the legal game and what the government could collect from taxes with the legalization of the other modalities: "The legal game moves around 14 billion reais, R $ 13 billion and little of Caixa lotteries Federal Economy, 400 million reais from the state lotteries and 300 million reais from the jockey ".
He continued: "Do you know how much illegal games make in Brazil today? Approximately 20 billion reais a year! The game of the animal earns R $ 12 billion per year and is in 350 thousand points of sale, while the lotteries of Caixa are in only 14 thousand. Altogether, 20 million Brazilians play daily in the Jogo do Bicho ".
Bacelar also advocated accelerating the regulation of online gambling
The federal deputy also took a stand against the idea of ​​releasing only casinos linked to luxury hotels or resorts in Brazil.
"I advocate urban casino, whoever wants to make their small, whoever wants to make their big. I don't have that much love for the so-called casinos integrated with resorts. Casino does not attract tourists, casino keeps tourists. Today there is an increasing trend towards small casinos, not least because we can no longer have crowds and I don't know if we can have them ", he explained.
And, according to Bacelar, the government stops receiving millions annually due to the lack of regulation of online betting. "We need money today and casinos will have to pay a glove, the concession, but they will only pay off in a few years. The legalization of online games is today. Brazil loses millions every year because it does not tax online gambling ".