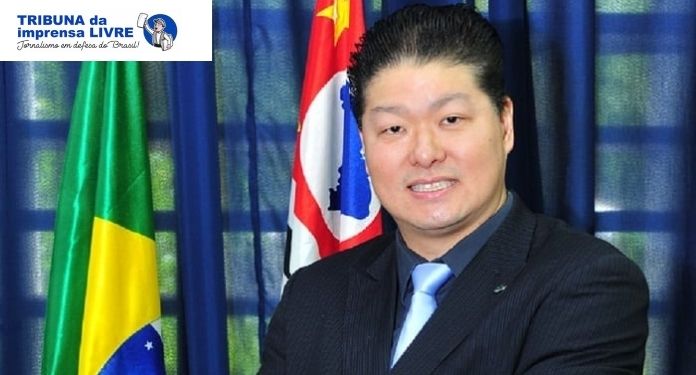 The president of the Institute for Development, Tourism, Culture, Sport and Environment (IDT-CEMA), Bruno Omori was interviewed by journalist Luiz Carlos Prestes Filho in his special series on the regulation of the betting and gaming segment in Brazil for the Tribuna website of the Free Press.
In Omori's view, in the current financial crisis situation, this type of investment could represent the opening of millions of job vacancies in several economic sectors, in addition to generating billions of reais for public coffers. "This is important at this moment, especially when we know that the public machine is broken," he said.
In addition, the president of IDT-CEMA supports legislation that serves to leverage the entire country and does not focus solely on a business model. "We understand that we must think big, in a model that allows all cities and tourist destinations to take advantage of the regulation. We have the capacity to positively impact our country's economy ".
Check out the interview with Bruno Omori
Luiz Carlos Prestes Filho: Has the Legislative Assembly of the State of São Paulo carried out activities with the executive for the regulation of money betting games administered by the private sector?
Bruno Omori: We defend the thesis that the regulation of games will have a positive impact on Brazil's macroeconomics, its approval will allow the creation of legislation with a liberal and market focus. We cannot limit a specific game model, we have to authorize integrated resort casinos, casino hotel, urban casino, bingo, online gambling, among others. In the locality, where the game can be installed, we will see opportunities for investment, development and economic growth.
Therefore, we understand that we must think big, in a model that allows all cities and tourist destinations to take advantage of the regulation. We have the capacity to positively impact our country's economy. In G20 member countries, most Christian nations have regulated games, except Brazil. Islamic countries also prohibit it. It is worth considering that there are games in Brazil, such as the legal activities of Caixa Econômica Federal (CEF) lotteries; and those developed at Jockeys Clubs.
This structure generates revenue of R $ 14.2 billion. Illegal activities, such as Jogo do Bicho, bingos, slot machines and on-line, generate R $ 19.9 billion in the country. The time has come to regulate. We have to be part of this global industry, which brings together more than 6,800 establishments in the world. In the US, games generate USD 240 billion, an infrastructure that allows the tourism sector to handle USD 210 billion.
Luiz Carlos Prestes Filho: Does your mandate defend the regulation of all games?
Bruno Omori: I participate as a speaker, articulator and leader in the tourism and games market in Brazil. I represented the country in the main international and national events, both public and private. Always defending the approval of games as a macroeconomic policy for growth and social development. In this way, I answer the questions by presenting my technical analysis and hard data.
Luiz Carlos Prestes Filho: In the Chamber of Deputies of Brasília, in recent years, there has been an appreciation of the theme Casino Resort. Does this appreciation open concrete perspectives for São Paulo?
Bruno Omori: There is an initial estimate of a foreign investment in Brazil in the order of USD 70 billion. This is an initial analysis of the amount. First, we heated up the real estate market, with the appreciation and sale of land; then we impact architecture and engineering services; then, we attract contractors, who will build the casinos; then enter the companies in the furniture, decoration, lighting, security, graphics, automation, technology, trousseau industry, among many others.
Finally, those that manufacture equipment for casinos, restaurants, hotels, shopping malls, convention centers, theaters that are aggregated in these segments. The operation itself – of course – with management companies in the operations of hotels, gastronomy, events, entertainment, cleaning, security, technology, games, among others, will make their contribution. In addition to all the necessary inputs and contracts for the operation.
Luiz Carlos Prestes Filho: What is your opinion about small urban casinos?
Bruno Omori: Casino Hotels in Europe and South America are smaller houses, with local investors and smaller foreign funds, are more exclusive and within hotel developments. They can be installed in any city and that also boost jobs and destinations. It is an ideal model to strengthen tourism in all states and destinations.
Urban casinos or bingos, are ventures for national investors and smaller international funds from USD 2 to USD 100 million. It offers more democratic access for consumers, is medium in size and can be installed in any city and location, can be great generators of work and income in a small town, attracting new audiences to complement the local attractions. Gastronomy and entertainment are added activities.
Luiz Carlos Prestes Filho: Does the regulation of gambling in cash contribute to the collection for public coffers?
Bruno Omori: Within this scenario of economic downturn that we are experiencing, investments can generate jobs in the millions or probably more than ten million. The vast majority of the country's economic segments will be activated, in addition to generating billions of reais in taxes, in all segments of the economy. This is important at the moment, especially when we know that the public machine is broken.
Luiz Carlos Prestes Filho: Which cities can benefit directly from the regulation of Casinos Resorts?
Bruno Omori: Integrated Resorts Casinos, such as those in Las Vegas, Macau and Singapore, are major global players, with investments in excess of USD 1 billion to USD 8 billion per venture. Structures that have more than 2,000 rooms, a convention center, shopping center, theater, concert hall, restaurants, parking lots and a large leisure area.
These are considered as destination hotels, directly generating thousands of direct jobs and inducing flows of business tourism, shopping, leisure, MICE, gambling and entertainment to the destination. Obviously, due to the initial investment amount and the need for a payback, they demand a long-term return on investments.
The destinations sought by operators and investors, for this modality, are large urban centers such as São Paulo, Rio de Janeiro, Brasília, capitals or places with great economic potential for return. Always with local public added to the flow of tourists. Electronic casinos and online games were the ones that grew the most with the improvement of the speed and security of the internet. New technologies have produced billions of dollars in taxes in regulated markets.
Luiz Carlos Prestes Filho: Does the São Paulo State government executive, especially the secretaries, accept the possibility of regulation?
Bruno Omori: In relation to the approval and regulation of money betting games managed by the private sector, the executive, the legislature and the judiciary of the State of São Paulo, understand that the approval at the federal level is necessary first. With the approval of the bills on the subject in the Chamber of Deputies and in the Senate of the Republic, our executive will be able to make his contribution. By approving games and granting autonomy so that states can legislate and regulate, we will have a lot of work ahead of us.
There is also the possibility of the Supreme Federal Court (STF) itself to resolve the claim considering President Dutra's decree of 1946 to be unconstitutional, by nullifying the effects of the Criminal Misdemeanor Law. Understanding that it was not accepted by the 1988 Constitution. Today, the federal and states executive consider the strategic theme. Just as the state legislature considers that, if the approval of games and casinos were put to a vote, we would obtain approval with the majority.
If State regulation were allowed, I am sure that the Legislative Assemblies of São Paulo and of the whole of Brazil would treat this agenda as a priority to increase jobs, foreign exchange and taxes. In conclusion, regulated games, being treated as public policy, as an economic activity, could generate employment, work, investment, income and foreign exchange. Indeed, we would be able to bring resources to apply in education, safety and health.