Although considered the leader of the gaming market in Latin America, Brazil is still lagging behind most of Latin America's neighboring countries with regard to the regulation of casinos and betting houses.
This is because while here the bill to legalize gambling is still under debate and apparently far from a consensus in the National Congress and also among sectors of society, in other countries in the region the situation is already at another level, both in relation to physical casinos as well as online games.
One of the pioneering countries in regulating the sector is Colombia, seen as a model on the continent. In 2011, Coljuegos was created in the country, a state entity linked to the Ministry of Finance and Public Credit, which became responsible for operating, administering, operating and issuing regulations and licenses for companies operating territorial and online betting (including sports betting) ), bringing greater transparency to the sector.
Full legalization took place five years later, in 2016, through a Government Regulation for all games of chance (until then, only traditional lotteries were allowed). Coljuegos is responsible for managing and regulating the more than 60 casinos present in the country (the second largest number in South America, behind only Argentina) and the thousands of gaming machines distributed throughout the territory.
The impact on the Colombian economy is evident. According to figures released by Coljuegos itself, in the first half of 2019, the government obtained revenue of approximately US $ 8.9 million related to the exploitation of games of chance. In Brazil, it is good to remember that this collection is zero, although dozens of foreign sites operate here with international licenses.
The Colombian example was followed by other countries in Latin America, which also advanced in the legalization of games. In Mexico, gambling sector regulation takes place through the Ministry of the Interior (SEGOB), which grants licenses to some national and foreign online casinos. However, many sites operate with international licenses from countries like Malta and Curaçao, for example, so that there are no legal restrictions. It is estimated that the country moves around US $ 10 billion with games annually
Aproximadamente 30.300.000 resultados (0,42 segundos) Resultados da pesquisa Resultado da tradução Português Inglês O Peru é um outro país que vem avançando na regulamentação desde 2019, embora o setor de cassinos físicos já esteja consolidado há algum tempo. O país é encarado como um mercado chave entre os operadores do mundo todo, sobretudo pelo seu potencial, tendo crescido mais de 200% desde 2014. Hoje, o país conta com entidades dedicadas ao jogo que são integradas ao Ministério de Comércio Exterior e Turismo (Mincetur). Peru is another country that has been progressing in regulation since 2019, although the physical casino sector has been consolidated for some time. The country is seen as a key market among operators worldwide, especially for its potential, having grown more than 200% since 2014. Today, the country has entities dedicated to the game that are integrated into the Ministry of Foreign Trade and Tourism (Mincetur).
Turism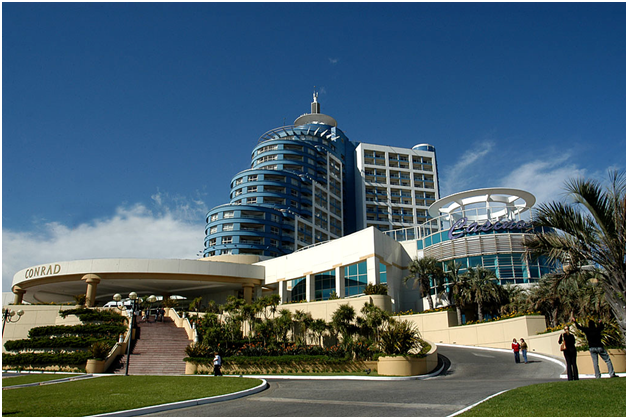 The exploitation of gambling in casinos is also directly linked to tourist activity and is one of the factors that take travelers from all over the world to some Latin American cities especially known for their casinos, such as Viña del Mar (Chile), Punta del Este ( Uruguay) and on the triple border of Foz do Iguaçu in Argentina and Paraguay. Ironically, much of the tourist revenue these cities record comes from Brazilian visitors who end up exploring foreign establishments due to their absence here. To give you an idea, Brazilians represent 70% of the occupation and 50% of the revenue of Conrad Punta del Este Resort & Casino, according to Instituto Jogo Legal.
Uruguay also has a specific body for regulating physical casinos (online gambling is prohibited in the country), the National Directorate of Casinos. The country's tax collection is around US $ 70 million annually. Chile is also in a similar situation, with the physical gaming sector being managed by the Superintendence of Casinos and Games, although internet betting does not yet have a regulatory framework.
The most peculiar case is that of Argentina, whose regulation depends on each province. That is why there are more than 20 different laws regarding gambling and casinos. In Buenos Aires, for example, the exploitation of territorial games is not allowed. However, operators found a loophole in the law to implement casinos on ships docked in the port, such as Casino Buenos Aires in Puerto Madero.
From the most consolidated regulations, such as the Colombian and Mexican ones, to those that are still in the process of maturity, such as the Chilean and Peruvian ones, it is clear that the exploitation of games of chance in Latin American neighbors can serve as a model for the advance regulation in Brazil.