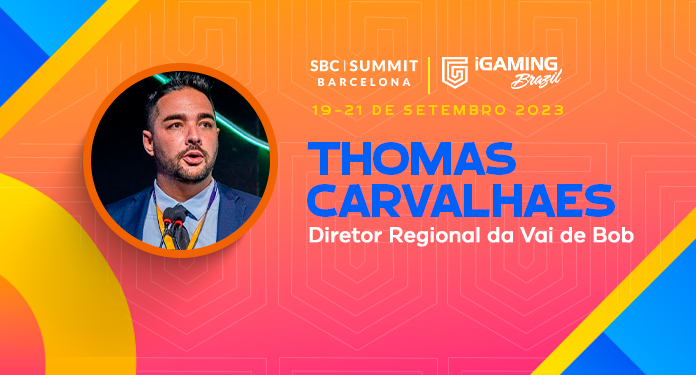 The SBC Summit Barcelona 2023 arrived with the intention of making history. According to Thomas Carvalhaes, regional director at VaideBob, the 2023 edition was bigger than last year. In an exclusive interview, the executive revealed that this is his favorite event.
"SBC Barcelona is my favorite event because of its relevance, the people who are here and the caliber of professionals at a global level. There are companies with expansion plans for Brazil and you connect with them here".
Furthermore, Carvalhaes revealed that he managed to speak directly with a representative of the Brazilian government in Barcelona. On Tuesday, the 19th, he and other operators participated in a round table with José Francisco Mansur, Advisor to the Executive Secretariat of the Ministry of Finance.
"In conversation at the round table with Mr. Mansur and other operators, we took our concerns directly to him. He readily listened. There is an expectation on the part of the government to open for applications in January of next year, he told us that it is not a promise, but an objective".
"He also told us that he would take into account our request regarding an improvement in the commercial perspective. The fact that they have included other types of games is already a good start", he added.
According to the director of VaideBob, the position of operators remains unanimous in favor of regulation, but the issue of commercial viability needs to be taken into consideration.
"Regulation is happening, it is already a reality. Our expectation as an operator has not changed, but it is to be more lenient in relation to the operator so that it takes commercial viability into account. Every operator expects this sensitivity on the part of the regulator, the Brazilian government, increase and see our side too"
Vaidebob Plans
VaideBob has plans to intensify its relationship with influencers in the coming months, but always following what is happening in terms of regulation in Brazil.
"We are not going to do anything loud, the time is to pay attention to what will be ratified as law and government ordinances. However, we are preparing agreements with influencers. We are seeing that influencers are having more and more influence in this environment", he concluded.
Check out the full interview with Thomas Carvalhaes, from VaideBob: