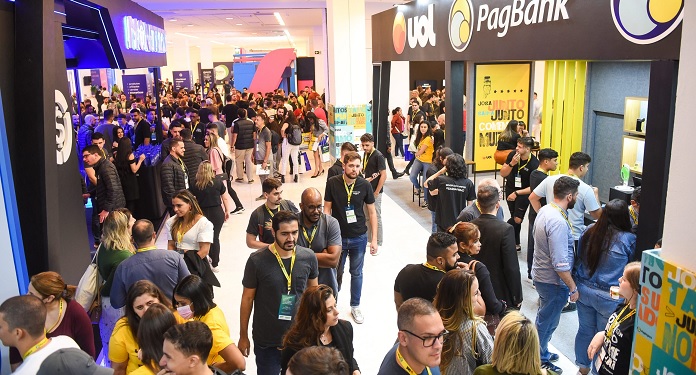 The Gambling Brasil schedule will continue on Friday, May 26th. The city of São Paulo will host the first edition of the event aimed at sports betting operators and enthusiasts, alongside Afiliados Brasil – a meeting created by professionals linked to Affiliate Marketing, Flávio Raimundo and Paulo Faustino.
The objective is to offer the opportunity to learn how to effectively monetize projects and leverage internet business to the next level, through lectures and debates in four auditoriums at the same time, systematic promotion of networking and exposure with stands of products and services related to the sectors of affiliates, games and sports betting.
It is worth noting that the iGaming Brazil portal will participate in both events and will have a stand at Gambling Brasil in order to serve the public present. In addition, journalistic coverage will include information from the panels, exclusive interviews and galleries with the best records of the three days of activities.
Gambling Brasil schedule for Friday, May 26th
9 am:
Auditorium 1: The only rule to survive in the digital market in the coming years with Iuri Meira Rabelo
There are 2 certainties for the future of digital marketing: evolution and natural selection. You need to master this one rule to stay in the game.
Auditorium 2: The Scale methodology used to generate 9.2MM reais in 7 days with Marco Aurélio
You will have access to the exact Scaling Methodology used to scale a launch from 5M to 9.2M in 7 days.
Auditorium 3: Escalating Services to 7 Digits with Luís Diogo
Share the methodology I use to scale my services to multiple 7 digits using digital.
Auditorium 4: How to get quality traffic from an ad network in 2023 with Tarcio Santos
1. Profits ecosystem 2. Why choose an unconventional ad network? 3. Target CPA: Rules-based campaign optimization 4. Smart CPM: Automated bidding with spend control 5. Custom Bidding: Intercepting the best converting placements 6. Social Bar: Boosted display ads with 10-30% CTRs"
10 am:
Auditorium 1: How to optimize your sales through data that many ignore with Rodrigo Correa
Every decision we make in our launches is based on data. I will teach you an efficient way to harvest and turn this data into more money in your pocket
Auditorium 2: The Complete Copy, Traffic, and Conversion Strategy That Sold 170,000 Courses in Perpetual with Brunno Tassitani
I'm going to show you how I built one of the biggest sales operations in the digital market from absolute zero and what you need to put digital products on the air. From the initial product idea, to page styling, ideal creative templates and conversion bases. I will present for the first time, the 4 phases of a 7-digit perpetual.
Auditorium 3: The next level of affiliate marketing with Rafael Carvalho and Thiago Refer
The affiliate market, as well as the entire digital market, has become increasingly diversified and professionalized. The American market is already demonstrating new affiliation trends and this has spread to the most developed countries very quickly. We see several innovations and improvements of this system. From closed affiliation invitations, without a marketplace, to specialized training for the affiliate team, the way of working with this niche has adapted to the new world after the technological advances resulting from the pandemic. We're going to show the next level he's already reached out there and how this will impact this sector in Brazil in the coming months and years. Evidence, references, trends, data and facts about the level change that this market is already experiencing.
Auditorium 4: 20 years of online sports betting takeover marketing – What are the lessons learned from Jesper Sogaard and Danilo Lavieri
Jesper Sogaard, co-founder and CEO of the world's leading sports betting affiliate, Better Collective, will talk about how Better Collective grew from a single site in 2002 to a global giant with the vision of becoming the leading digital sports media group of the world. In this session, Jesper will share insights into the future of global digital sports media, the company's entry into the US market, and how the lessons learned here will inform the company's entry and growth across South America. Addressing the importance of performance marketing, media partnerships and sustainable business growth, this is a can't-miss session from one of the industry's most successful CEOs.
12 noon: Awards Afiliados Brasil with Paulo Faustino and Flávio Raimundo
2 pm
Auditorium 1: Framework I use to create and scale high ticket offers with Marcos Eduardo
The new way for you to scale sales of your high-ticket product.
Auditorium 2: Debriefing of the PLR ​​of 33 million, the largest in Brazil with Leonardo Zanette and Fernando Muniz
Come and see the biggest ebook sales success ever recorded in Brazil – a journey that generated revenues of 33 million reais. Throughout our conversation, we'll open up about what worked and what didn't in our marketing tactics, relive the creative process, and uncover the elements that made this ebook a milestone in the digital world. And there's more, to sweeten this meeting even more, we have a surprise for you. By participating, you have a chance to take home a coveted Iphone 14 Pro 256gb, courtesy of Perfect Pay. But remember, this opportunity is only for those who are with us, present and connected.
Auditorium 3: Launch for Affiliates: how to multiply earnings with sales peaks! with Ellen Simon
You will learn a launch strategy to sell as affiliates, reaching multiple 7-digit billing.
Auditorium 4: How to boost your business through esports marketing with Petr Kipa
Petr Kipa, Marketing Director at BetBoom, discusses the topic of boosting business through esports marketing. Petr emphasizes the importance of trust and loyalty in the esports community and shares success stories of streamers promoting brands. He explains various advertising tools on Twitch, both for performance and awareness. It highlights the effectiveness of sponsoring Tier 1 event streams and community presenters. In summary, Petr Kipa provides insight into how to leverage esports marketing strategies to drive business, highlighting the role of streamers, advertising tools, partnerships with streamers and teams, and unique collaborations with streetwear brands.
3 pm
Auditorium 1: How to transform a digital business into a company with Guilherme Grandini
Transforming a digital business into a successful company involves several important steps, from setting clear and realistic goals, to building a talented team and implementing effective management and marketing strategies.
During this talk, I will share my own experiences gained from founding a successful digital company in a challenging time in 2020 and the key learnings I gained along the way. We will discuss how to establish a solid foundation for your digital business, creating internal processes, hiring and maintaining employees, in addition to other fundamental management pillars for any company to remain in the market and have good results.
Auditorium 2: The savings of millions: understand how logistics optimizes the costs of your digital business with Carina Oliveira
In the lecture ""The savings of millions: understand how logistics optimizes the costs of your digital business"", Carina Oliveira, commercial director of Enivix by Platinum Log, will address logistics for digital companies. The main benefits of outsourcing logistics will be discussed, showing how it can optimize costs and improve the customer experience. It will also be discussed about ICMS and the importance of understanding taxation in logistics. In addition, the lecture will highlight the importance of logistics for brand credibility and customer loyalty, showing how good management can be a competitive differential in the market. Come join and learn how logistics can make a difference in your digital business!
Auditorium 3 with Betina Wecker
Auditorium 4: Winning Offer Engineering: The Deep Mechanics and Psychology of Creating Irresistible Offers with Damian Lanfranchi
Winning Offer Engineering: The deep mechanics and psychology of creating irresistible offers.
4:15 pm: Disrupting AI in Facebook Ads – Pro Tactics Revealed with Depesh Mandalia
Ready to use YOUR new edge in the Facebook ad game to sell anything to anyone without being an ad expert? Let's open the playbook and unleash the full power of AI with these revolutionary tactics.
5 pm
Auditorium 1: 5k in the first few months, without appearing with Matheus Lopes
At Afiliados Brasil, Matheus promises to teach affiliates how to earn up to R$5K per month, without showing up! Want to find out how? So be present in this mentorship!
Auditorium 2: Affiliate Traffic with Roberto Cortez
How can you earn more with Affiliation through Paid Traffic.
Auditorium 3: How to scale a perpetual product with Micha Menezes
Learn to spot the blind spots that keep you from climbing.
Auditorium 4: Demand preparation with Lucas Garvin
How We Added Over $200,000 in Just 49 Days with a Single Simple "Demand Preparation" Campaign
6 pm
Auditorium 1: The 4 American Funnels I Plug into My 7 Figure Projects with Edipo Tolentino
In this lecture Édipo Tolentino will reveal 4 American Sales Funnels that he plugs into his 7-digit projects and clients.
Auditorium 2: Sell more with a sales funnel without removing your Instagram followers with Simone Siqueira
In this lecture, I'll show you how to create content and boosts that will take your followers through all the stages of a sales funnel without having to remove them from Instagram. Content to attract, engage and sell in various formats (videos, stories and post carousel).
Auditorium 3: You just don't sell more because you ignore objections with Marcelo Braggion
The real reason you can't scale sales with your copy projects is because you ignore your audience's objections.
Auditorium 4: Secrets Behind the Most Powerful Differentiation Strategy in All of Marketing with Todd Brown
When potential customers don't see what makes your product or service unique or special, they won't buy. This is a huge problem that most entrepreneurs struggle with. Fortunately, after this presentation, you will never be one of those entrepreneurs again.
Because in this presentation you'll discover the most powerful marketing strategy you can do today… that immediately proves to potential customers what makes your product or service unique, superior and more valuable than any other option available. Use this strategy and watch your sales skyrocket.
7 pm: Cocktail from 7 pm to 10 pm