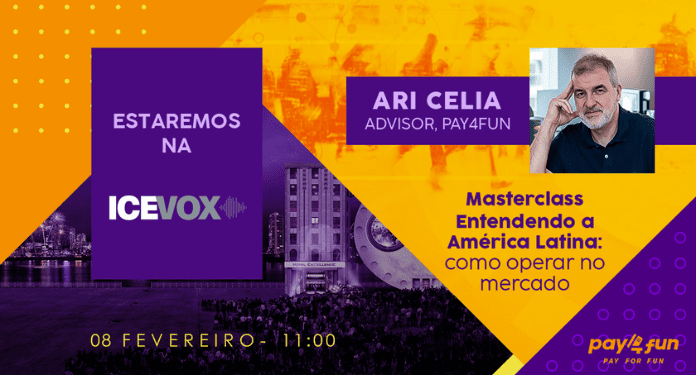 Pay4Fun will be at ICE London 2023 showing its work in the Latin American market, in one of the biggest gaming events on the planet. This year, the payments platform will take a delegation of 9 executives from all the main areas of the company. ICE London takes place from the 7th to the 9th of February 2023 at ExCeL London.
Pay4Fun will have an exclusive Gallery Room at ICE. This will be a space for networking and meetings, so that all partners can learn more about what the company has been doing in favor of the development of the financial transactions market focused on the iGaming area, in the market of Brazil and Latin America. To find Pay4Fun at ICE London, just look for gallery room SG21.
Pay4Fun will also be on ICE VOX
Parallel to ICE London, ICE VOX 2023 will take place, a conference where the most diverse topics related to the latest innovations in global iGaming will be discussed. Pay4Fun's director, Ari Celia, will participate in the Masterclass on the theme "Understanding LatAm: How to operate in the market", which will take place on 08/02 at 11:00 am.
The Masterclass will be a rich space for exchanging ideas and new insights related to the busy and emerging gaming and betting market in Latin America and, especially, in Brazil.
ICE London aims to generate industry-wide revenue through innovative solutions, technology, valuable insights and the best networking opportunities. Bringing together solution providers and gaming professionals, ICE brings together the best players and providers in the sports betting, bingo, casino, lottery, mobile, online, payments, social and eSports sectors.
About the company
Pay4Fun is the first financial transaction company in the gaming market to be authorized by the Central Bank of Brazil. By integrating Pay4Fun, commercial partners are sure of having a solid company recognized in the market. End customers also have access to full security for their financial resources.
The company offers a platform that allows deposits, payments and transfers to be made in a practical, fast and secure way. In addition, it brings the safest, fastest and most efficient payment solutions to the digital environment. Facilitating the daily lives of consumers and merchants, through a simple and intuitive platform, Pay4Fun also promotes a differentiated service at all levels.