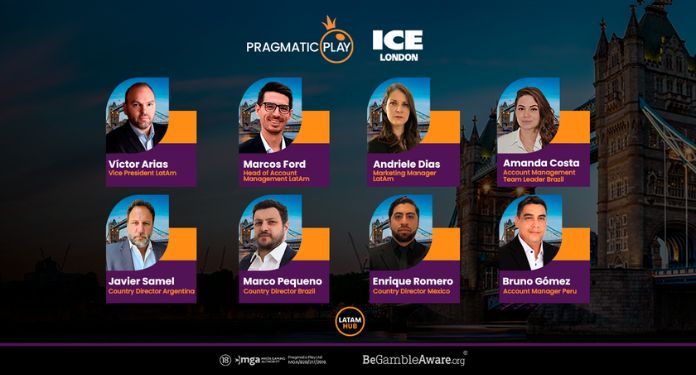 ICE London is approaching and industry representatives are already finalizing the details of their most attractive proposals and the best they have to offer to fulfill the main objective: an exhibition that promises to break attendance records.
Pragmatic Play Latam heads to London
Pragmatic Play is today an undisputed reference in Latin America, the indispensable brand for operators in the region that offer the highest quality of entertainment. For this reason, several members of the Latin American Hub will accompany their Vice President and join more than a hundred representatives from all over the world in London.
The multi-vertical provider promises to surprise once again with a large stand, showcasing its classics, notable innovations and first fruits for 2023. A portfolio of products that responds to its objectives of innovating, transforming and elevating gaming experiences, making it the favourite, in all moments!
What does ICE London represent for Pragmatic Play Latam?
Marco Pequeno, Country Director Brazil, recognizes that "ICE is the big stage for iGaming, where we hope to be throughout the year. It is the best thermometer to understand what is happening in the sector, so it is vital to demonstrate how much we take serious about our mission to be a leading global provider."
But ICE is not just about trends and updates, it is also a very valuable experience on a personal and professional level. In the words of Javier Samel, Country Director Argentina, "Participating in ICE for another year, representing Pragmatic Play, is an honor and a privilege, as well as a gateway to potential new business in this dynamic and expanding industry."
Undoubtedly, being a leading provider in Latin America requires active participation in the sector's largest world exhibition. And if there is one thing that Enrique Romero, Country Director Mexico is convinced of, it is that: "there are localized events that allow us to understand the national market, but when you participate in ICE, you can identify where the industry is going. to be at the forefront, because we are part of those who are writing the future".
Opportunities and challenges
Participating in ICE is a unique opportunity. It means being part of an environment where diverse cultures and visions come together and that is precisely why it has become an unmissable event, as confirmed by Marcos Ford, Head of Account Management Latam at Pragmatic Play: "Participating in ICE is crucial for growth and success. There you can make valuable connections with other industry professionals and explore new initiatives with our partners".
One of the challenges is in Marketing, conveying seriousness, confidence and an excellent image. As Andriéle Dias, Marketing Manager Latam said, "coming to ICE is a dream come true, one of the aspirations of all of us who are part of the sector, since our first day in this industry. But, once we achieve this goal, it also represents a huge challenge, in which we work with great responsibility".
Participating in ICE is a very enriching experience, which is why the date of the event is a must on the agenda of all professionals in the sector. Its importance and its great power of influence in the industry make this exhibition the most awaited.
One industry expert in Latin America who understands this perfectly is Víctor Arias, VP of Latam Operations at Pragmatic Play. "ICE's relevance and sophistication is second to none.
I couldn't express how much this event means to me. Coming back year after year is one of the best experiences. Experiencing this with the magnitude of Pragmatic Play, and with part of my Latin American team, makes me very proud."
Pragmatic Play Latam awaits you at ICE
As the date approaches, the gambling universe focuses on London. Providers, operators, affiliates, streamers, specialized media, renowned speakers and industry fans are eagerly awaiting ICE 2023: a new chance to learn about Pragmatic Play's proposal for Latin America.