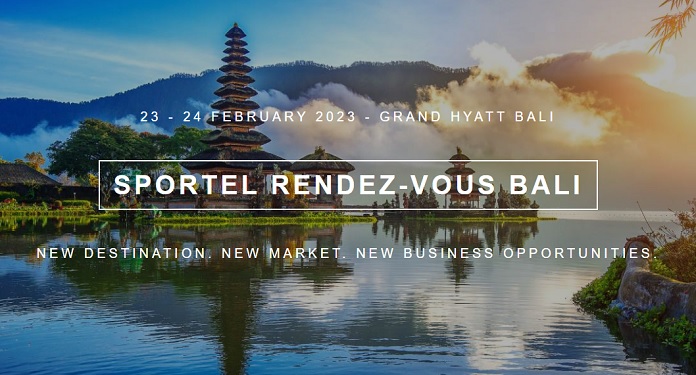 SPORTEL is returning to Asia in the new destination of Bali, Indonesia from 23rd to 24th February 2023. In the exceptional setting of the Grand Hyatt Bali, this international sports market and two-day conference will provide the community with the opportunity to reconnect and do business with top sports business leaders.
Indonesia was a strategic choice to host this new SPORTEL Rendez-vous, after four years of absence in Asia (last edition held in 2019 in Macau). As the fourth largest population and one of the fastest growing economies, interest in sports and technology in Indonesia is immense. Furthermore, the industry is rapidly expanding with total revenues of $49.2 billion in 2022 and its sports media revenues will continue to rise over the next 5 years.
Always seeking to better meet the needs of its customers, SPORTEL has created special products designed to increase visibility thanks to the numerous exhibition and sponsorship options available. The area has also been upgraded on one level to maximize traffic as well as networking and business opportunities.
Six weeks before the start of the event, many major rights holders and broadcasters, as well as new and creative sports industry players from Asia and Oceania (Asia-Pacific Broadcasting Union, CAA eleven, CJ ENM, Cubmu, Culver Max Entertainment, EMTEK, Enveu, Football Marketing Asia, Fox Sports, Ideal Systems, IEG, IMG, Infront Pan-Asia, MediaPro Asia, MNC Paramount, Sport Five Asia, Stan, Vietcontent, Vidio, TransTV and many more) have already confirmed their participation.
"I've always enjoyed coming to SPORTEL events because it's the only place where technology companies, broadcasters and sports federations come together. It is not only a place to find customers today, but also the best place to understand what the technology requirements may be for the future," explained Meghna Krishna, CRO of Magnifi.
Event numbers
54% of Asian participants
37% of content buyers
30% of companies are participating for the first time.
An innovative conference focused on the regional market
To enable the SPORTEL community to advance its business, a dedicated Conference Summit program, led by influential decision makers and innovative disruptors, will explore the latest information from sports media. Topics include the 'Big Picture', international football properties, private equity investment and cultural and diversity shifts, and the latest trends in sports technology for OTT, streaming, FAST channels, cloud, AI, NDI, mobile esports, Metaverse , Web 3.0 and more!
The first speakers announced include:
Sutanto HARTONO, CEO, Surya Citra Media & Vidio.com, EMTEK
Andrew ROGERS, Commercial Director, ASIAN FOOTBALL CONFEDERATION
Mark CHEW, co-founder and managing director, REDDENTES SPORTS, REDD+E
Tom BROOM, Senior Vice President, Co-Head of APAC Media, IMG
François DAZEMAR, APAC Operations Director, ORIGINS DIGITAL
Stephen HODGE, CEO, OTTERA
Meghna KRISHNA, Chief Revenue Officer, MAGNIFI/TOCH INC.
Philipp MAENNER, Senior Director Media Rights, WRC PROMOTER GMBH
Fintan MC KIERNAN, CEO – Southeast Asia, IDEAL SYSTEMS
Callum MCCARTHY, Editor, SPORTBUSINESS
Kevin MCCULLAGH, Asia Pacific Editor, SPORTBUSINESS
Alexandre PAUGAM, Director of Streaming Market Development, APAC-EMEA, HARMONIC INC
Guy PORT, Head of Asia-Pacific, WSC-SPORT, BUNDESLIGA INTERNATIONAL
SPORTEL Rendez-vous Bali will feature additional activities to develop new business opportunities and also extend the experience in Bali, being organized in close proximity to the venue, including beach volleyball and golf tournaments.
Sobre a SPORTEL
SPORTEL is the premier must-attend convention for high-level global executives in the sports business industry. International decision makers in sports media rights, broadcast solutions, TV networks, international federations, OTT groups, sportstech, sports marketing and communications attend the event.
While supporting its ever-growing and diverse community and delivering quality events, SPORTEL is the only media rights-focused convention for the entire sports industry, whether traditional sports or looking forward to virtual sports, eSports, sports betting and immersive technologies emerging as a new "crossover" trend.
With more than 7,000 m2 of exhibition space complemented by a Summit conference, SPORTEL Monaco is the flagship event, which takes place in October in the Principality of Monaco. To better serve the needs of its community, SPORTEL promotes international events predominantly in the spring in the Americas and Asia.