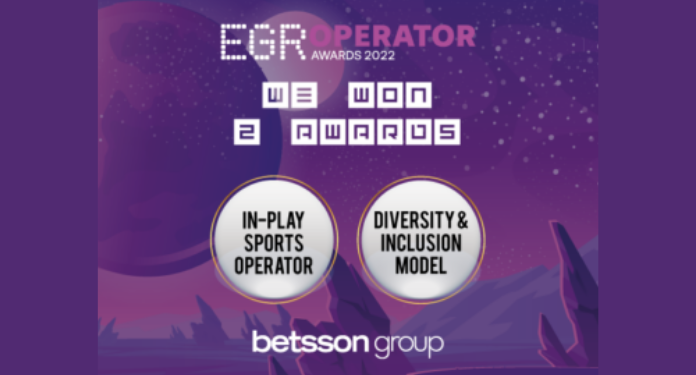 The Betsson Group won two awards in major categories at the 2022 EGR Operator Awards: the 'In-play Sports Operator of the Year' award and the 'Diversity & Inclusion Model of the Year' award.
Now in its 20th year, the EGR Operator Awards celebrate and reward B2C operators for setting the standard in a variety of categories. They recognize companies that are driving innovative solutions and providing market-leading products and services within the gaming industry.
Award – 'In-play Sports Operator of the Year'
For this category, the jury awarded the Betsson Group, which has developed a product that stands out in the market and boosted the sports bookmaker's revenue in the sector. Innovation and strength in mobile platforms was a key criterion for the evaluation.
The panel also examined the breadth of markets offered and the ability to offer across multiple platforms. Some of the key criteria included the growth and commercial success of the product, its innovation and differentiation, the online and offline marketing strategy used, as well as the range of markets and platforms served.
Award – 'Diversity & Inclusion Model of the Year'
This award recognizes the operator or affiliate that has demonstrated its commitment to diversity and inclusion. The award honors the organization that places workforce engagement at the heart of its business strategy, communicating a strategy that provides support and inclusion for all.
Some of the key criteria the judges looked at included the details of the D&I strategy, positive impacts on representation and retention, as well as employee engagement, education and commitment.
About the EGR Operator Awards 2022
The winners of the EGR Operator Awards 2022 were announced at the awards ceremony in London on 27 October 2022. The awards are organized by the EGR (eGaming Review).
EGR Global is one of the leading B2B publishers and affiliate networking groups for the online gambling and betting industry, providing a comprehensive source of current business news and market intelligence.