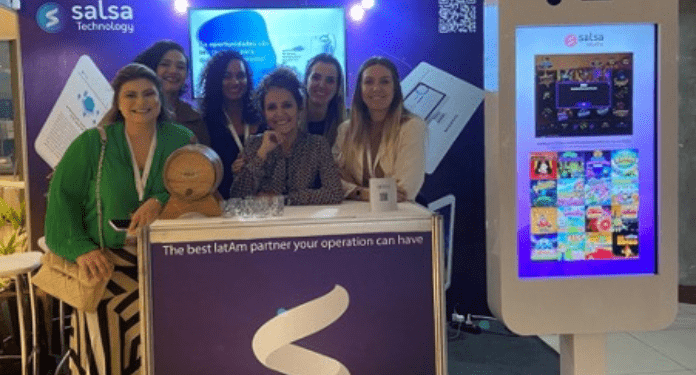 Salsa Technology makes a positive assessment of its participation in the CGS Brasil event held on September 12 and 13, in Florianópolis (SC).
During the two days of the exhibition, the company received numerous potential customers and partners at its stand, which kept the team's agenda very busy, which was especially reinforced for the occasion. In the space, in addition to taking a totem with a demonstration of Salsa Studio games, the company offered visitors a tasting of artisanal cachaça produced in a still in the capital of Santa Catarina.
Two professionals from the company were part of the first day's conference program, which included the participation of regulators, operators and some of the main players in the sector.
With the moderation of the president of the Instituto Brasileiro Jogo Legal, Magnho José, and the participation of André Alves (Control+F5) and Leo Wurmann (Ocular), the Head of Marketing and Communication at Salsa can share efforts so that information about the company and about the sector reach all employees in order to develop opinion makers who spread the word that the sector is serious, socially and economically relevant, and that it is part of the entertainment industry.
"On the panel we also talked about the importance of brands being careful when choosing ambassadors for their brands, after all, the reputation of the sector is fundamental for every company that works with games", said Eliane.
Subsequently, with moderation by Camilla Carvalho (Pay4Fun) and participation by Natalia Nogues (Control+F5), Salsa Technology's Lead Account Manager, Camila Alves, joined the female trio that gathered tips for companies that want to enter the Brazilian gaming market and bets.
"On the occasion, we were able to highlight the importance of operators looking for the right partners, with knowledge of the market and the local public, and that they keep in mind that location is a primary condition for those who want to win customers in Brazil and throughout America. Latina", summarized Camila.
During the welcome cocktail, Salsa's Head of Marketing and Communication, Eliane Nunes, was honored as one of the outstanding women in the sector, alongside Gabriela Novello (Altenar) and Natalia Nogues (Control+F5).
To illustrate the two days of participation in the event, Salsa Technology prepared a video published on Youtube, check it out: