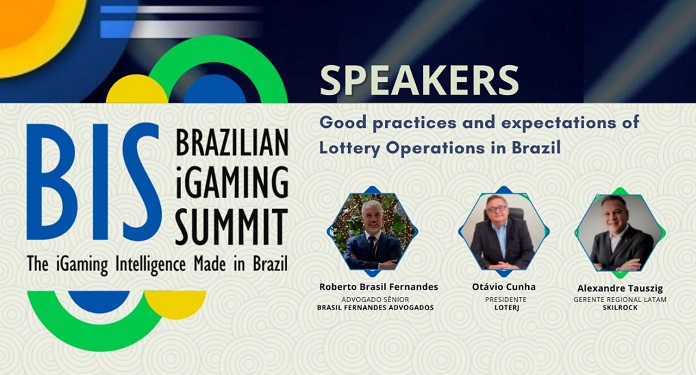 The Brazilian iGaming Summit (BiS), continuing its diversified program of panels and lectures during the two days of the event, presents the panel entitled "Best practices and expectations of Lottery Operations in Brazil", which starts at 12:45 on the day 28, at Espaço Boulevard JK, in São Paulo.
The panel of this journey will be mediated by Roberto Brasil Fernandes, Senior Lawyer at Brasil Fernandes Advogados, and will be attended by Alexandre Tauszig, Regional Manager at Skilrock and Otavio Cunha, President of Loterj.
For Tauszig, "BIS is becoming a reference in this segment in Brazil, a country that is the 'big ball' on the continent, not only because of its size and economy, but, above all, because of the unique moment, with the regulation of sports betting, the legalization of gambling and the resurgence of state lotteries."
He concludes: "We chose this topic due to the illegality of gambling in Brazil, the regulatory issue was not developed here; there is not even a regulatory agency, as in other countries. The discussion is beneficial for the market: Government, operators and players."
This and other subjects will be part of the official schedule of the Brazilian iGaming Summit, BiS, which will take place from 9:00 am to 6:00 pm.
In 2022, the second edition of the world's highest level iGaming event takes place within the calendar of international fairs in the gaming industry sector.
The Brazilian iGaming Summit, The Brazilian iGaming Intelligence, has a varied and interesting program during the first two days, adding up this year a third day, where the Latam Affiliates event will take place.
Afiliados LATAM
The big news this year is Afiliados LATAM- the first exclusive event in the iGaming market, focused on affiliates, covering sports betting, casino games and lotteries. Afiliados Latam is an initiative of Jericho Eventos, organizer of the Brazilian iGaming Summit.
It will feature the presence of important companies in the sector, experienced speakers in affiliate marketing and digital media in general, as well as hundreds of affiliates to form a perfect networking environment.
About the Brazilian iGaming Summit (BiS)
The second edition of BiS should once again bring together the main representatives of the sports betting, lottery and affiliate segments. After all, this event has already established itself as an international reference for receiving politicians, regulators, operators, authorities, ambassadors and representatives of world players.
With Brazil becoming an exponent in the sports betting and gaming industry, numerous companies from the three sectors are following all the developments of the regulatory process. Thus, the objective of BiS 2022 will be to offer relevant, updated content that helps to project the future of the national market.
The event takes place on June 28 and 29, at Espaço Boulevard JK, in São Paulo.