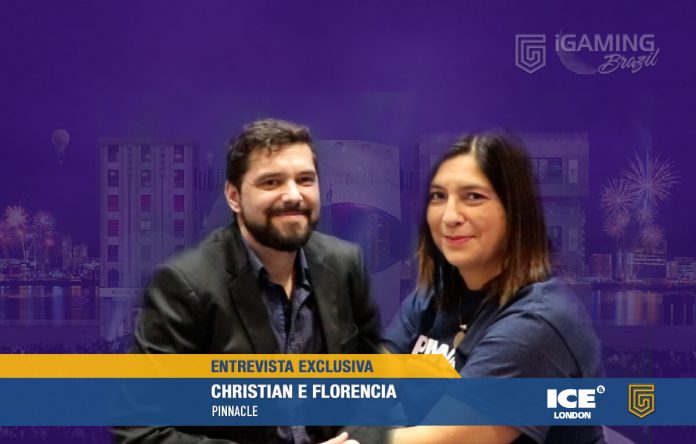 Pinnacle, one of the main brands in the iGaming segment, recently attended the biggest event in the world market, ICE London 2022. With its own space at the convention held in London, two company representatives received the team from the iGaming Brazil portal for an interview exclusive: Christian Raykoff (LATAM Regional Manager) and Florencia Brancato (Head of Global Markets).
For the two professionals, the 2022 edition of ICE London was very successful as it allowed the reunion of members of the international community face to face, the realization of new business and, above all, the interest of participants in Latin America and the Brazilian market.
Pinnacle's plans for the Brazilian market
As Raykoff commented, the brand's intention is to continue expanding the 'Pinnacle Family' in Brazil, advancing more and more with new affiliates, influencers and local partners. Florencia Brancato made a point of remembering that the company also has strategies to grow in other regional markets, such as Peru.
About Brazil specifically, the head of global markets pointed out that it is not such an easy country to enter, as it is a very specific market with unique characteristics. "It is very important to know what you can and cannot do in Brazil. The value of the player is different from Europe and you have to be patient", commented Florencia.
Therefore, the two executives agree that the regulation of the national industry will be positive, not only for Pinnacle's business, but also for the other operators. "Being in a regulated market makes our work much easier and will allow us to have a much clearer vision".
Long-term projection for eSports
Currently, Pinnacle is one of the most focused operators in the competitive eSports segment. Christian Raykoff explained the brand's differential: "our great differential in eSports is that we are event organizers. We don't follow the common industry strategy of looking for teams, we are organizing events all year round".
Raykoff mentioned some actions promoted by the group: "In June, we have a physical event in Sweden. But monthly we have the Pinnacle Cup. We intend to continue and in Brazil with Counter-Strike, which is the main game in the country", he concluded.
Check out the exclusive interview with Christian Raykoff and Florencia Brancato, from Pinnacle