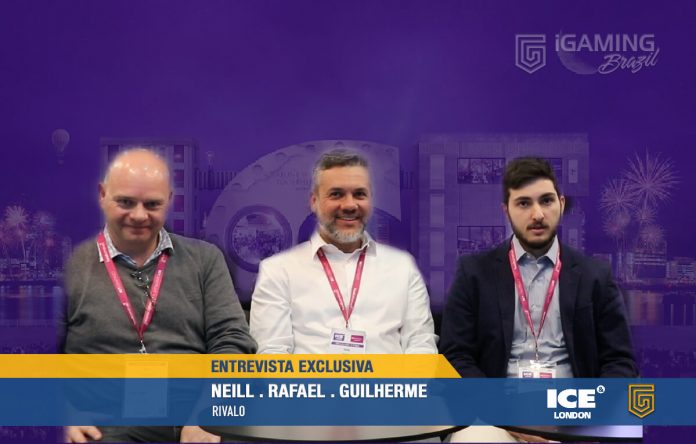 ICE London 2022, the biggest betting and iGaming event on the planet, provided the in-person meeting of players after a chaotic period. At ExCeL London, networking was re-established and the main brands were present.
In an exclusive interview, Rivalo representatives Rafael Costa (Affiliate Manager), Neill Simpson (Commercial Director) and Guilherme Bucchi (Brazil Acquisition Manager) advanced the company's plans for the Brazilian market.
According to company executives, there are plans for all of Latin America, especially Brazil and Colombia. Aimed at the Brazilian market, Rivalo plans to make more investments and promote the launch of new products soon.
In addition, Rivalo has already carried out some actions in the country to strengthen its brand, such as sponsoring the BFA League (Liga Brasil Futebol Americano) and the partnership with former player Cafu. In a World Cup year, the group intends to further explore this agreement, since the former player was the last captain of a Brazilian team that won the world championship (in 2002).
According to the representatives of the betting company, the tendency is to continue investments in an even more aggressive way in the national territory, aiming to achieve better results and more players.
Another point addressed was the affiliate segment in Brazil, which is receiving even more attention from Rivalo with the offer of a first-class platform for affiliates with the mission of promoting the brand, in an even more transparent way and with more technology involved.
Watch the exclusive interview with Rafael Costa, Neill Simpson and Guilherme Bucchi, from Rivalo