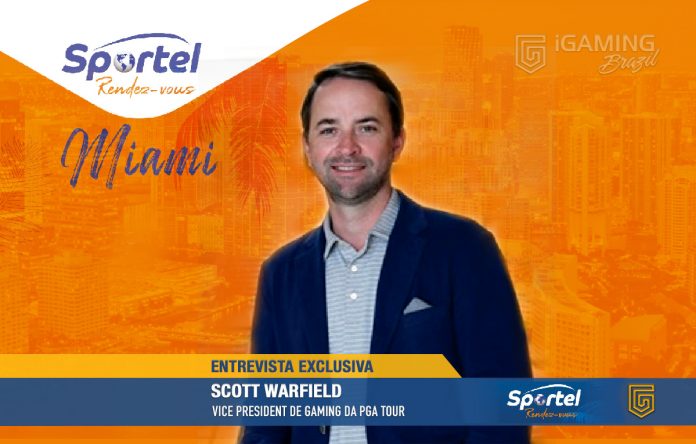 The main convention of the sports business industry, SPORTEL returned to the Americas on March 14th and 15th of this year. With a new structure, the Rendez-Vous edition was based in the city of Miami, in the United States. In order to meet the needs of its partners and customers, the event has adapted to the current context.
With more than 30 years of history, SPORTEL is seen as the most relevant conference for the sports media and technology market. With this dynamic, the event provided the opportunity to present new products, business meetings, premium exhibitions and panels with prestigious brands and specialists in the segment.
The iGaming Brazil team followed all the developments of SPORTEL Rendez-Vous and was able to exclusively interview Scott Warfield, Vice President of Gaming for the PGA TOUR. During the conversation, the executive highlighted how the entity is working on marketing actions in the fast-rising betting market in the United States.
Scott Warfield also explained how the PGA Tour is dealing with this growth in the betting flow in the country, as well as how the group is behaving to offer insurance to bettors. In addition, he detailed how contacts between American federations and sports betting platforms occur and the importance of an event of the magnitude of SPORTEL in Miami.
Check out the interview with Scott Warfield, PGA TOUR Vice President of Gaming
iGaming Brasil: How does the PGA TOUR intend to engage with the new emerging sports betting marketing in the US?
Scott Warfield: The PGA TOUR sees sports betting as an opportunity to engage current fans and reach new fans. Golf, and the PGA TOUR in particular, is uniquely positioned to capitalize on the legalization of sports betting thanks in large part to the amount of content and pace of play. We rely on innovation and product development but are encouraged by what we are seeing in the early stages as live betting options roll out.
iGaming Brasil: In commercial terms, is the PGA TOUR feeling the impact of increased betting in the US?
Scott Warfield: Following our data deal with IMG Arena, in 2021 we launched our Official Betting Operator (OBO) program with DraftKings, FanDuel, PointsBet, BetMGM, which unlocked IP TOUR rights and marketing opportunities across our ecosystem . As the legalization and adoption of sports betting has expanded in the US, the TOUR has renewed each of the four OBOs for three-year periods through 2024.
In addition to OBO relationships, TOUR has market access agreements with DraftKings in Arizona for one and one retail bookmaker at TPC Scottsdale and more recently with betPARX in Ohio for mobile sports betting. As we look to the future, we know that golf lends itself to truly unique betting opportunities – particularly live betting – and we think this will drive deeper engagement among many of our core fans and appeal to a younger and more diverse audience.
The Golf Event Center product built by IMG Arena is optimized for live betting, and as it integrates into operators' platforms over the next two years, it will open up opportunities for fans to access comprehensive data from shot to shot, live streaming and interactive field views.
iGaming Brasil: How does the PGA TOUR work to ensure gamblers' safety?
Scott Warfield: In anticipation of the 2018 U.S. Supreme Court decision striking down the Professional and Amateur Sports Protection Act (PASPA), and in collaboration with many of the other major leagues, the TOUR began to think about how we would operate in this space in in a way that makes sense for our brand, our business and our stakeholders.
We began with instituting our integrity program in late 2017, designed to educate our stakeholders and protect all of our tournaments on all circuits from potential outside gaming-related influences, and we continue to develop this program each year. Our second big step was the global agreement with IMG ARENA to license our ShotLink score data to online betting operators and sports media companies.
These two fundamental steps to protect the integrity of our sport, our members and our brand have allowed us to responsibly engage in the opportunities that sports betting presents. The TOUR has also teamed up with the American Gaming Association and the National Council on Problem Gambling to help educate golf fans about responsible sports betting.
iGaming Brasil: How important is communication between American Federations and sports betting platforms?
Scott Warfield: The TOUR has collaborated with other major leagues, state legislators and others in the gaming industry to help them understand our positions and hopefully come up with regulation that makes sense for everyone involved – state governments, consumers, operators and leagues.
We believe that regulation is a more effective way to ensure integrity in competition, protect consumers and generate revenue for the government, operators and leagues. We also believe that safe and responsible sports betting and gaming present opportunities for audience development and fan engagement, and we are always looking for ways to further engage our fans.
iGaming Brasil: How important is an event like SPORTEL in Miami?
Scott Warfield: As the sports betting space continues to evolve, it is critical to connect with key stakeholders in the sports media and gaming industry to share information, best practices and build relationships. The PGA TOUR is actively involved in SPORTEL conferences and continues to be a valuable industry event for our business.