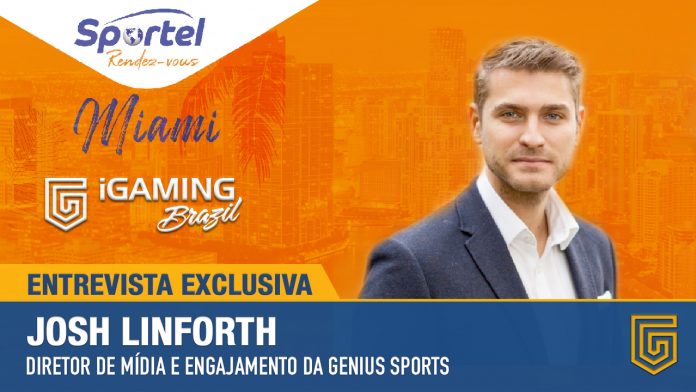 SPORTEL Rendez-vous was held on March 14 and 15, in the city of Miami, United States, bringing together the major players in the media, data and global sports technology industry. The event is seen as one of the most relevant for this segment and provided an opportunity for decision-makers in the Americas to meet.
As with last year's event held in Monaco, France, the iGaming Brazil portal team covered the two days of programming, featuring panel highlights, new industry trends and special interviews. Thus, the portal was able to speak exclusively with Josh Linforth, the Managing Director of Media and Engagement at Genius Sports.
The director of Genius spoke about the new technologies that can revolutionize the market in the short, medium and long term, as well as the current moment of the Brazilian betting industry and what it could become after the regulation.
Exclusive interview with Josh Linforth, Managing Director of Media and Engagement at Genius Sports:
iGaming Brazil: What emerging trend or technology do you believe will revolutionize the way marketers connect with fans in the next 3-5 years?
Josh Linforth: As one of the last remaining forms of live entertainment, leagues, teams, sponsors and bookmakers recognize how compelling sports drama is perfectly suited to the medium of experiential marketing.
Experiential marketing provides a tangible way for sports to connect directly with their fans. A useful example of how this can be successfully achieved was Captain Morgan's Super Bowl Punch Bowl, which was conceived as a fun and interactive way to engage with the biggest US sporting event of the year.
By connecting the Punch Bowl with our official live NFL data feed in real-time, fans were treated to stadium-inspired lights and sounds, Bluetooth speakers, and LED graphics that were triggered by key events during the game.
iGaming Brazil: Genius Sports was on the front lines when major US leagues began signing agreements to license official data to sports betting operators. Why are these partnerships so important and how are they already creating a more engaging experience for fans?
Josh Linforth: The major league's official data partnerships with sports betting have helped drive product innovation, brand awareness, customer acquisition and fan engagement in the US. These deals paved the way for a market that sees value in the fastest and most accurate data feed, acting as the only source of truth for every move.
Official data feeds are critical for bookmakers offering a leading product in the game, powering the widest range of available markets that they can keep open longer to maximize turnover. For the NFL, over 97% of licensed US bookmakers are using our official data feeds to boost their offering in the biggest league in American sport.
iGaming Brazil: How do you envision sports betting to help niche sports and growing leagues build relationships with new fans?
Josh Linforth: The strategies of the major leagues have had a critical effect on sports around the world. Now, mainstream and niche sports leagues and federations are evaluating how they can get involved and benefit from the betting industry. For niche sports, the key is to see betting within a broader fan engagement strategy.
Gamification, whether through augmented streaming or free-to-play games like fantasy or trivia quizzes, is critical to how sports build more meaningful connections with the modern fan. And betting can be a key element of that, encouraging fans to watch more games, for longer, and on more platforms.
iGaming Brazil: How do you analyze the Brazilian betting market at the moment and what it could become after the regulation of sports betting?
Josh Linforth: While estimates vary, if Brazil adopts an open licensing regulatory system with online/mobile sports betting, the market is expected to reach up to $1.5 billion in revenue in the first five years.
This represents a great opportunity for Genius Sports to capture a market that will be dominated by football betting, which remains one of the highest margin products. In addition, this market will also require technology and expertise on how to better protect your sports against match-fixing threats.
As in any regulatory market, legitimacy is key. And it is critical that vital integrity measures, such as information sharing requirements for sports betting and education programs for sports and its participants, are placed front and center in the new regulation.