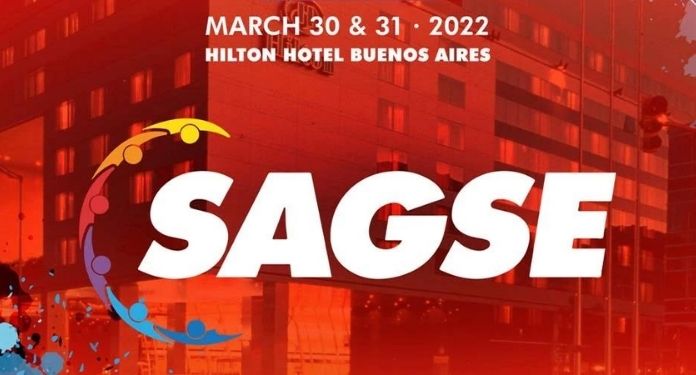 SAGSE Latam is one of the most important fairs for the gaming sector in Latin America. With a long history, great experience and leadership, it brings together the highest executives and all players in the gaming industry, both physical and online.
About to complete 30 years in the sector, SAGSE Latam, formerly known as SAGSE Buenos Aires, has become the ideal networking space to showcase and find new products and launches. Save the date: next March 30th and 31st.
The SAGSE Latam exhibition takes place in Buenos Aires, Argentina, once a year. With several editions around the world to their credit, some of them were events like SAGSE Panama and, exploring different channels, reached markets across America, Europe and Africa with special training editions, providing relevant information within the conference cycle called SAGSE Talks, and more recently SAGSE FaceTime on a dynamic and original platform.
SAGSE Latam has a long history, great experience and leadership that has brought together exhibitors from the most outstanding companies in the gaming sector in its nearly 30 editions. From manufacturers of slot machines, electronic roulettes, gaming tables and clothing to providers of services and technologies for casinos and game rooms. It brings together the highest executives and management-level professionals, specialized in the gaming industry, with the aim of providing the right space to do business and develop skills.
Always generating a high level training environment, with renowned speakers, professors and educators, to develop and present their knowledge in the series of conferences offered to avid visitors who want to learn in the technical and commercial areas, among others.
The directors of the most important companies, managers from different areas, manufacturers and operators, along with employees from Institutions, certification laboratories, game developers, artificial intelligence, security and all the experience necessary to carry out an operation, come together to ensure quality information. in SAGSE.
Some of this year's exhibitors will be: Aristocrat, Oasis Entertainment, Yogonet, Eightroom, Beconstruct, Boldt S.A., Loteria de la Ciudad de Buenos Aires (LOTBA), Techno Gaming S.A. and many others.
With rounds of conferences hosted by exhibitors and gaming industry experts, starting in the morning until early afternoon, the fair promises.
Check the schedule:
30, Wednesday, Pacific Room:
10:00 am / 10:30 am: Registration and Welcome Coffee
10:30 am / 11:00 am: Welcome from SAGSE
11:30 am / 12:30 pm: The acceleration of technological change caused by the pandemic. The growth of electronic commerce and, with it, of telematic games. Telework and the teleconsumer. Disadvantages and opportunities that technological change has caused.
Sebastian Salat, CEO ZITRO
12:30 / 01:15: How has the pandemic changed the consumer?
Patricio O Gorman – Professor at the University of Palermo
01:15 pm: Group photo
1:15 pm / 2:45 pm: Lunch and Networking (operating panel: Dario Montero Casino Club, Codere).
03:00 pm: Cutting the SAGSE Ribbon and Opening of the Expo.
SAGSE 2022 Lectures
Day 2
Thursday, March 31, Pacific Room, Hilton Hotel:
9:00 – 10:00: Registration and welcome breakfast
10:00 – 10:18: Opening panel: LEARN TO PLAY. The City launches its Know How to Play brand:
What is knowing how to play
Knowing how to play from the perspective of responsible gaming
Safe and legal game
Responsible marketing
What you touch, comes back
Speakers: Eva Frontera and Antonella Bottinelli, LOTBA
10:20 – 10:38: New Markets: Chile. Regulated online betting and market with great potential.
Speaker: Carlos Baeza, lawyer
10:40 – 11:58: Keys to the success and relevance of the online gaming market in the Latin American market, cases in Argentina, Brazil, Chile, Colombia, Peru, the Caribbean and Mexico
Speakers: Victor Arias, Pragmatic; Andrés Nicolás Torresán, Grupo Slots and Gabriel Szlaifsztein, Continente8
11:00 – 11:15: Greener hotels. Hotel establishments and the best applied innovation projects that integrate the principles of sustainability in the value chain.
SEA, Signs in action, the importance of integrating the whole of society. The importance of changing the Image and Public Opinion about the sector, perhaps the sector of Casinos, Bingos and Entertainment.
Nutryfort: Strong Nutrition, social action, supporting and educating communities.
Speakers: Agata Fornasa, SEA; Franco Luciano Di Pasquo, AHT and Daniel Papiccio, Executive Director of UADEE
11:15 – 11:30: Game Mechanics. The evolution of gaming in casinos has been remarkable in the last 10 years. How games evolved from free games and multipliers to real or perceived persistence. Stop and spin revolutionized the gaming industry. Let's review the different game mechanics and how they combine to create the best experience for players.
Speaker: Carlos Carrion, Aristocrat
11:30am – 12:00pm: Coffee break.
12:00 – 12:18: Payment method, Brazil. Success stories and good practices.
Speakers: Leonardo Baptista and Fabricio Murakami, Pay4Fun
12:20 – 12:38: Marketing and Affiliation in Argentina, Brazil, Chile, Colombia, Peru and Mexico. Success Stories in Brazil
Speaker. Ricardo Magri, EightRoom and Rodrigo Cambiaghi, Sportradar
12:40 – 02:00 pm: Networking Lunch
02:00 – 02:50 pm: Sports betting in Latin America for the QATAR World Cup 2022. Situation in Argentina, Brazil, Chile, Colombia, Peru and Mexico.
Speakers: Tomas Botta, lawyer; Mateo Lenoble Nessar, Sportradar; and Roby Martinez Alvarez, Racing Club, Moderator: Patricio Baigorotgui
02:50 – 03:15 pm: ALEA and the sustainability of online games in Argentina, Speaker: Silvio Vivas, ALEA
03:00 pm: Doors open at the 2nd EXPO SAGSE Latam 2022
For more information: [email protected]