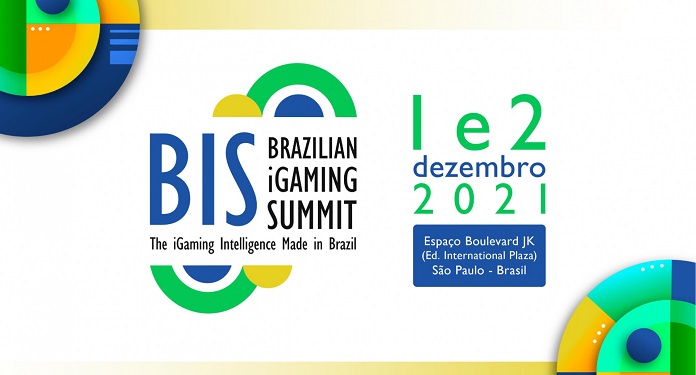 The organization of the Brazilian iGaming Summit (BiS) – The iGaming Intelligence Made in Brazil – is pleased to welcome all the participants of this first edition. This Wednesday, December 1st, the schedule of the biggest betting event in the history of the Brazilian market officially begins with a series of panels and lectures with guests of the highest level and world prestige.
The only face-to-face meeting to take place in Brazil since the beginning of the pandemic, BiS 2021 will provide opportunities for reputable brands across the planet to interact with new players on the rise on the national scene, in addition to facilitating the exchange of information and impressions between industry representatives with personalities of the federal government.
After all, the conference will receive suppliers, operators, regulators, politicians and authorities to present the development trend of this industry in Brazil. Remembering that all activities linked to BiS take place at Espaço Boulevard JK, International Plaza Building, in São Paulo.
Brazilian iGaming Awards
One of the highlights of this first day of the event is the holding of the first specific award for the national iGaming market, the Brazilian iGaming Awards. The intention is to honor and honor the brands and professionals who stood out throughout this year.
The revelation of the winners will take place at the official cocktail party of the Brazilian iGaming Summit, starting at 6:30 pm. In total, the award has 14 categories and all nominees can be found on the official website: www.brazilianigamingawards.com.
Complete Brazilian iGaming Summit schedule
It is important to emphasize that the BiS program was designed to enhance the experience of the national and international players present, with a view to offering an ideal environment for intense networking. After all, the convention arrives to meet a request from the community itself to join in person this year.
Thus, the official agenda includes exhibitions, panels and varied and rich debates with professionals with a lot of experience and extensive knowledge of the demands of the national segments of lotteries, affiliates and betting. So, see the complete schedule of this first and historic edition:
Check the schedules of the panels and their respective participants!
December 1st, Wednesday (Brasilia time)
08:30 am – Reception and accreditation
09:00 am – Official opening of the event
Alessandro Valente (Super Afiliados)
09:10 am – Opening Lecture: the Positive Impact of the Gaming Sector on the Brazilian Economy
Gustavo José de Guimarães e Souza (Secretary of Evaluation, Planning, Energy and Lottery at the Ministry of Economy)
10:00 am – Lecture: Brazilian intelligence to succeed in business
Leonardo Baptista (Pay4Fun)
Fabrício Murakami (Pay4Fun)
10:30 am – Lecture: The impact of casinos on resorts in the world and the perspective for Brazil
Alex W. Pariente (Senior Vice President, Hard Rock Hotels and Casinos)
Paulo Saad (Vice President of Paid Channels at Grupo Bandeirantes de Comunicação).
11:30 am – Panel: Regulation of Lotteries in Brazil: Expectations and Perspectives
Marcello M. Corrêa (Loterj)
Antônio de Jesus Leitão Nunes (Maranhão Parcerias)
Valter Delfraro (Government Relations and Business Development Executive – Brazil from Gaming Laboratories International – GLI)
Moderation:
Roberto Brasil Fernandes (Brasil Fernandes Advogados)
12:15 pm – Panel: Corporate Vision of Sports Betting and Lotteries in Brazil
Alexandre Tauszig (SkilRock Tecnologies)
Sergio Alvarenga (Intralot Brasil)
Moderation:
Roberto Brasil Fernandes (Brasil Fernandes Advogados)
14:30 pm – Lecture: The importance of game variety in the Brazilian market
Victor Arias (Pragmatic Play)
14:45 – Panel: What the Law allows and is not explored
Luiz Felipe Maia (FYMSA Advogados)
Rodrigo Garrido (professional poker player)
Moderation:
Witoldo Hendrich JR (Hendrich Advogados e ONLINE IPS)
15:30 – Panel: Other game modalities and the Brazilian scenario
Peter Nolte (Salsa Technology)
Thomas Carvalhaes (Hero Gaming)
Moderation:
Sergio Garcia Alves (Abdala Advogados)
16:45 pm – Panel: Differentials of successful operators in Brazil
Luiz Fiorese (TacTic Sports & Entreterimento)
Natália Nogues (Ctrl + F5)
Cássio F. Filter (Country Manager da KTO)
Moderation:
Angelo Alberoni (Bectris)
17:45 pm – Lecture: Responsible Gaming and its obligations
André Gelfi (Betsson Group)
18:25 pm – Closing of the first day
06:30 pm – Official Cocktail Party – Sky Hall
Start of the 1st Brazilian iGaming Awards
December 2nd, Thursday (Brasilia time)
09:00 am – Reception
09:15 pm – Panel – Regulation: The positive aspects of Regulation (Contracting, Economy, Tourism, etc.)
Newton Cardoso Jr. (Congressman)
Bacelar (Congressman and President of the Tourism Commission)
Magnho José (President of Instituto Brasileiro Jogo Legal – IJL)
Waldir Eustáquio Marques Jr (Subsecretary for Awards and Drawings of the National Sec. of Public Policy, Planning, Energy and Lottery of the Ministry of Economy)
Moderation:
Luis Felipe Maia (FYMSA Advogados)
10:15 pm – Panel: Cyber ​​Security – Game Security
Gilson Banin (Microsoft)
Henrique Costa (Pay4Fun)
Moderation:
Leonardo Baptista (Pay4Fun)
11:30 am – Panel: Payments in Brazil / Legality and Compliance
Ari Celia (Pay4Fun)
Fabio Tiberia (Consultor Internacional Igaming)
Marlon Tseng (PagSmile)
Moderation:
Fernando Gonçalves (FGo Legal)
12:30 – Panel: Game Providers
André Schuartz (Pipa Games)
Erick Mendez (Evolution)
Ramiro Atucha (Vibra Gaming)
Jesus Rafael Campos (BetConnections)
Johnny Ortiz (Zitro)
Moderation:
Peter Nolte (Salsa Technology)
14:45 pm – Panel: Membership Models in a Successful Market
Abelardo Dantas (Afiliado)
Pedro Feitosa (Afiliado)
Pedro Lucas (Super Afiliados)
Ricardo Magri (Eightroom)
Moderation:
Flávio Raimundo (Afiliados Brasil)
16:15 pm – Lecture: The need for multiple providers for the success of the operation
Sebastian Perrier (BetConstruct)
05:00 pm – Panel: Sports Betting Operators
Juan Jose Mantese (Meridian Gaming)
João André Franco (EstrelaBet)
Fernando Garita (Betcris)
Moderation:
Alessandro Valente (Super Afiliados)
06:30 pm – Official Closing of the Event