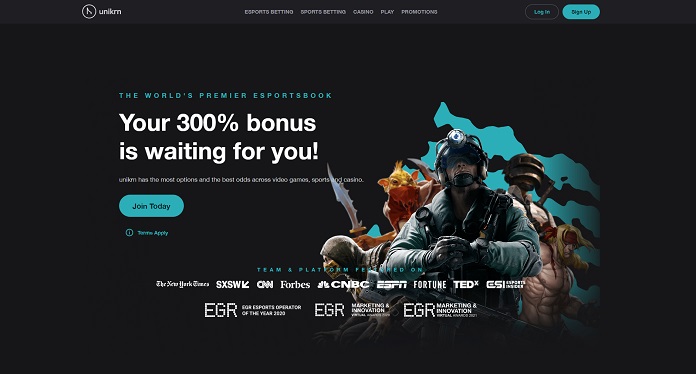 Gamers are always looking for more, and unikrn™ is betting on that. As of today, the eSports betting platform is back and ready for a new generation of players.
First introduced eight years ago, unikrn is a video game and eSports betting platform – offering a secure and affordable way for players of legal age to bet. The platform, which also offers betting options on traditional sports and casino games, is now available in Brazil and Canadian provinces and territories beyond Ontario. The platform aims to enter new regulated markets around the world in 2023 and beyond.
The house, now with a completely new look, offers a user-friendly interface that makes it smoother and simpler for players looking to bet on their own, bet with friends or even bet on themselves. With a 24/7 stream of action and the world's most popular titles, unikrn gives players more ways to bet while watching and playing their favorite games.
"Over the past year, Entain's passionate team has worked closely with us to create a secure, affordable and compliant product that players can trust – even if they've never placed a bet before," said Justin Dellario, Unikrn CEO and Director Entain's eSports admin.
"The launch of unikrn in Brazil and Canada is the first step towards introducing a video game and esports betting platform that truly puts a new generation of players and their passions first."
unikrn is continually innovating and will evolve its product suite as the brand presence expands. Initial product offerings will include:
UMode: UMode empowers players to bet on their own skills in the games they love to play, so they can put their skills to the test, and provides a convenient way to raise the stakes of their matches, granting greater rewards on the world's most popular games.
Virtual Unikrn: Virtual unikrn offers players a non-stop stream of eSports action to bet on, with new events and markets available 24 hours a day. Unikrn's exclusive collection of virtual games features hundreds of hours of world-class players going head-to-head in their favorite sports games – including Counter Strike: Global Offensive, NBA2K, Mortal Kombat, Street Fighter V, and more.
unikrn Esportsbook: The unikrn Esportsbook brings the top tournaments and biggest sporting events into one convenient place, giving players more titles, more markets, and more ways to level up the fun every day.
Unikrn Moneymatch: That friend who always brags about being the best player is about to be called into the duel. Unikrn Moneymatch gives players the opportunity to go head-to-head in a variety of different titles, with bragging rights and real money on the line.
unikrn Sportsbook: Players can bet on the biggest sporting events from around the world. Combined with unikrn's Esportsbook, three million unique markets are offered every month, allowing users to personalize their betting experience and combine their sports and eSports passions in one convenient place.
Unikrn Casino: Unikrn Casino features over hundreds of premium casino titles that provide players with opportunities to win every day. From classic card games to the latest premium slot titles, unikrn Casino has everything players are looking for and more.
Unikrn Rewards: Unikrn's rewards system allows players to earn bonuses just by playing their favorite titles. After linking their game account to their unikrn account, players will earn rewards after every match they play. Players can also earn daily rewards whenever they place bets on the platform.

About unikrn
Founded in 2014 and reintroduced by Entain in 2022, unikrn is the most expansive video game and esports platform on the market. Powered by Entain's award-winning technology, the house offers more ways to bet and win, all on one safe and secure platform.
The platform is easy to use and offers a non-stop stream of eSports action that allows players to bet on their own, bet with friends or even bet on their own skill.
About Entain
Entain plc is a leading global sports betting, gaming and interactive entertainment company, operating both online and in the retail sector. The group has a comprehensive portfolio of established brands. Sports brands include bwin, Bet.pt, Coral, Crystalbet, Eurobet, Ladbrokes, Neds and Sportingbet. Gaming brands include Foxy Bingo, Gala, GiocoDigitale, Ninja Casino, Optibet, Partypoker and PartyCasino.