The popularity of eSports has grown in 2022 compared to last year. The information is from the Game Brasil 2022 Survey (PGB 2022), an annual study on the consumption of electronic games in Brazil. According to the report, 81.2% of players have heard of eSports, up 16.9% from the PGB 2021 data.
Despite the significant number of Brazilians who know about eSports, the number of players who follow the competitive scene of electronic sports is around 63%. For Carlos Silva, Head of Gaming at Go Gamers, the Covid-19 pandemic was a determining factor in the increased popularity of the modalities, but other elements also made a difference.
"Esports has definitely been gaining more space in the routine of Brazilian gamers, becoming an increasingly popular entertainment. The numbers indicate that, despite the pandemic period having increased the visibility of the modality last year, which can be attributed to social isolation, electronic sports continue to attract the attention of players, even after the end of the restrictive measures", highlighted Silva.
The study also detailed how eSports are part of the public's daily life: 24.9% consume content related to electronic sports at least twice a week; 21.9% watch three days a week while 17.6% fans consume this type of content every day.
Several broadcasts and relevant stages of championships are promoted on weekends, which may be indicative of the greater number of Brazilians following the segment at least twice every seven days.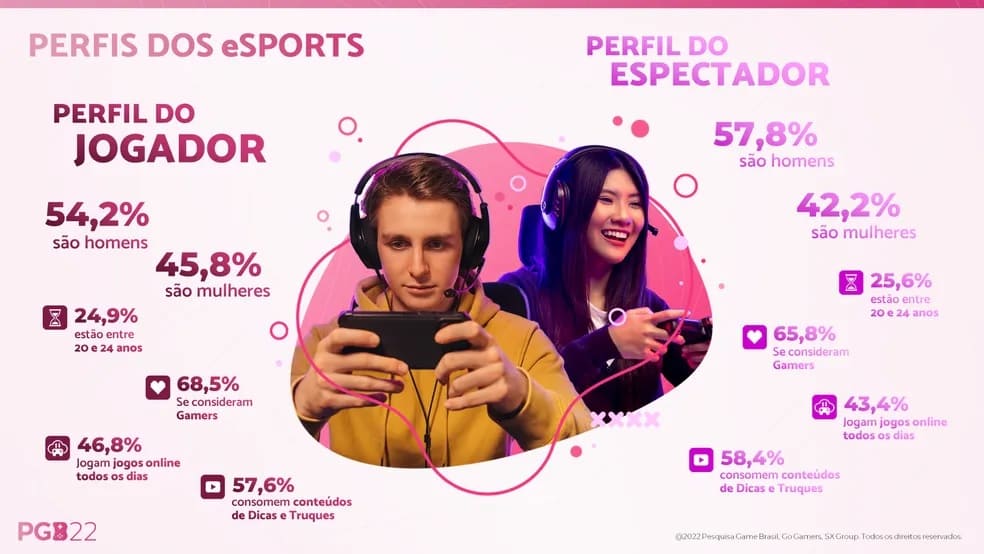 'Boom' in eSports betting
It is not just in Brazil that eSports are gaining more and more fans. This trend is replicating practically all over the planet, which also ends up increasing the interest in betting on e-sports competitions.
Therefore, bookmakers are committed to covering the competitive segment and offering more and more segment-focused betting markets to meet this growing demand.