For the first time, the Flamengo representative became champion of the e-Brasileirão OPEN. On Wednesday, the 21st, the carioca club was represented by Alan Leal, who ended the final phase of the championship undefeated and ensured the conquest of the virtual football trophy in the 2022 edition.
In the final, the player surpassed João Victor, from Ceará, and became the newest Brazilian champion in the modality. According to information on the Brazilian Football Confederation (CBF) website, the champion pocketed a prize pool of R$25,000, while the runner-up took R$5,000.
In all, there were 48 thousand entries since the first phase of the competition. After the online disputes, the tournament reached its in-person phase in the auditorium of the Casa do Futebol Brasileiro, in Rio de Janeiro (RJ).
With highly disputed duels, the quarterfinals had representatives from Avaí, Bahia, Ceará, Coritiba, Flamengo, Fluminense, Guarani and São Paulo. The initial phase brought together competitors from all over the country, representing teams from Series A and B of the Brazilian Championship.
The face-to-face competition started with the quarter-final games, which classified Flamengo, Bahia, Ceará and Avaí for the next phase. Fla eliminated São Paulo and advanced to face Bahia, who left Guarani behind.
On the other side of the bracket, Ceará, who overcame Coritiba, got the spot for the duel with Avaí, who defeated Fluminense. In the semifinals, Flamengo had a close duel with Bahia and overcame Esquadrão. Ceará beat Avai and also guaranteed a spot.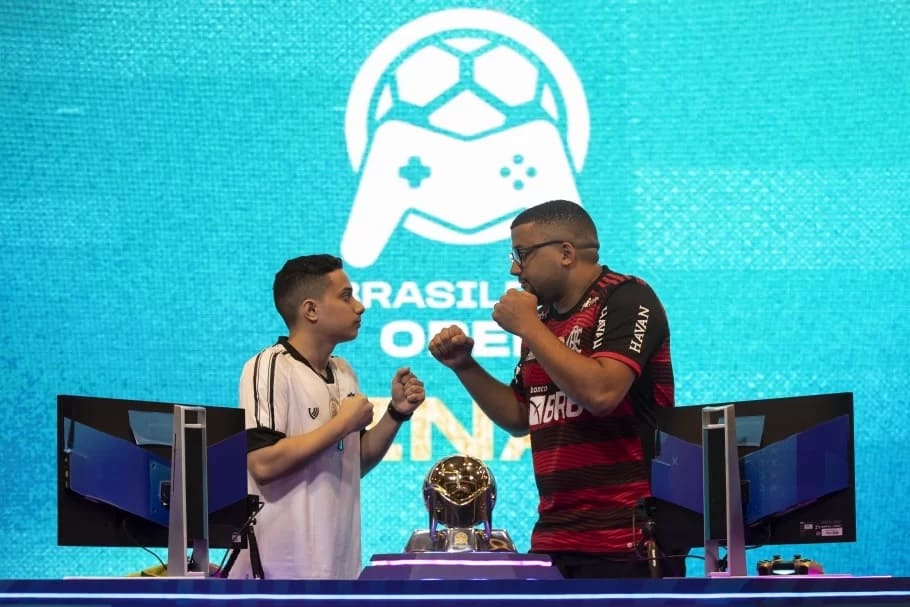 Final match
In the final, Alan Leal and João Victor promoted a very fierce duel. In the first game, Flamengo even opened 2 to 0, but suffered a draw by 2 to 2. The return match opened with a goal from Vozão de João Victor. Alan, however, managed to get the comeback and the unprecedented title for the club from Gávea.
"It was a very difficult game, João Victor is an athlete of great quality. He was better than me, but I kept calm and managed to turn the game around", said Alan Leal after the title.
Participants of the e-Brasileirão OPEN 2022
Avai Eduardinho
Bahia: Gabriel Franja
Ceará: João Victor
Coritiba: Rudy Lucas
Flamengo: Alan Leal
Fluminense: Jonathan Higa
Guarani: Allan Campos
São Paulo: Thiago Avaré