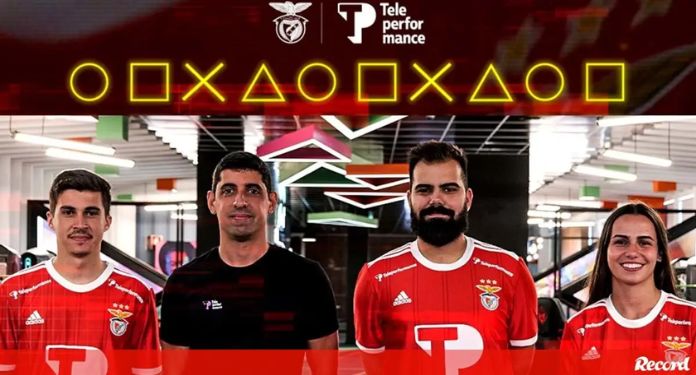 Teleperformance, one of the largest customer relations companies in the world, and a trusted provider of omnichannel solutions, has just become the official sponsor of the eSports team at Benfica, one of the most successful clubs in Portugal.
The team, to be known from now on as Benfica Teleperformance, was born after the combination of several guidelines:
The will to win, triggered by the club's winning DNA;
Connecting different targets and audiences, ie younger fans;
A brand with a continuous internationalization and digitalization strategy;
The recognition of a growing digital environment where many big brands already operate.
Benfica and Teleperformance have signed a three-year agreement and will work together on the club's strategy and talent development.
"We developed this Gaming Arena project and we were looking for the right partner to enter this segment with us, taking it to the next level. Benfica is one of the biggest clubs in Europe and in the world; it has a large number of fans not only in Portugal , but all over the world – a large part of our workforce are Benfica fans and passionate about games".
"We are thrilled to be able to partner with such a huge club that represents the same principles and ambitions as Teleperformance. We look forward to finding out where this project will take us," said Augusto Martínez Reyes, CEO of Teleperformance Portugal.
Domingos Soares de Oliveira, CEO of Benfica, commented: "Our commitment to digital, as well as our focus on the significant transformation that the football industry is going through, is growing at a rapid pace; that is, new ways of interacting with different targets and audiences, where the game is a very strong part of that strategy".
"We are confident that this partnership with a company like Teleperformance will drive the club's eSports project forward," added the CEO.
The club's main ambition is very clear: to win all competitions, both friendly and international. For this, Benfica will have the Teleperformance gaming center, which is now available to the club. Heavily equipped with modern technology, the center is among the best in the world, which will provide adequate training and competitive conditions.
Domestically, Benfica will compete in both Liga Portugal and FPF tournaments, and on an international level, they will enter a number of official competitions that offer a chance to win the most prestigious trophy of them all: the World Championship.
Starting with FIFA – a natural starting point for a football club – Benfica plans to expand its portfolio of titles as part of its winning DNA and its internationalization and brand digitization, and to connect with multiple audiences.