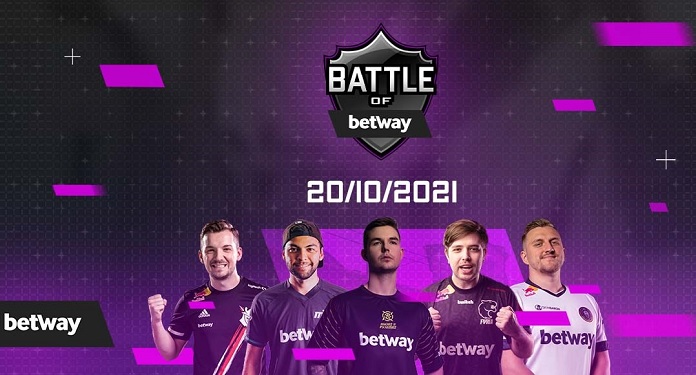 Super Group-owned online bookmaker Betway is launching Battle of Betway, its worldwide Counter-Strike: Global Offensive tournament. The event, which will feature partner teams from around the world, will be the biggest and most exciting sporting event the brand has ever organized.
The list of teams that will participate in the Battle of Betway has BIG, NiP, G2 and the Brazilian teams, MIBR and FURIA. Scheduled to start on the 20th of this month, Battle of Betway will be aired on five different streaming channels. Teams will compete all against all in a better 1 map format.
The championship will result in a semi-final and a final showdown. Each streaming channel will feature some of the top talent in the CS:GO community, including Anders, Gaules and Semmler. That way, eSports fans will be able to watch their favorite players in action ahead of the long-awaited world championship, the Stockholm Major.
Teams are excited to play Battle of Betway
Adam Savinson, on behalf of Betway's Esports area, said: "The Battle of Betway is our most ambitious CS:GO sponsorship activation to date; bringing together our teams from around the world to compete against each other in an epic Betway tournament ".
He added: "Running just before the long-awaited Stockholm Major, this is the last opportunity for every CS:GO fan to see their favorite teams face off before fighting for the top prize of the year."
arT, on behalf of FURIA, said: "It's good to have a showmatch in a competitive format to connect teams that only face each other in big tournaments. It's cool for us and fans too, who will see a good match, but in a way really fun".
Ocelote, CEO of G2, stated "It's great to see our partners at Betway putting on this Battle of Betway spectacle. This will definitely bring the teams together as part of the Betway family and I look forward to seeing them."
Nicolai "dev1ce" Reedtz of NIP also said: "I'm really looking forward to these matches. We play a lot with each other both in practice and in tournaments, it's always tough games against very skilled players. because it gives us the opportunity to try new things, which we could only do before in training".
About the bookmaker
Betway is part of the Super Group: the digital company that provides world-class entertainment to the worldwide online gambling and gaming community. Super Group controls major businesses in the industry, such as Betway, a leading online sports betting brand, and Spin, a multi-brand online casino company.
The group is licensed in more than 20 jurisdictions, with leading positions in key markets in Europe, the Americas and Africa.