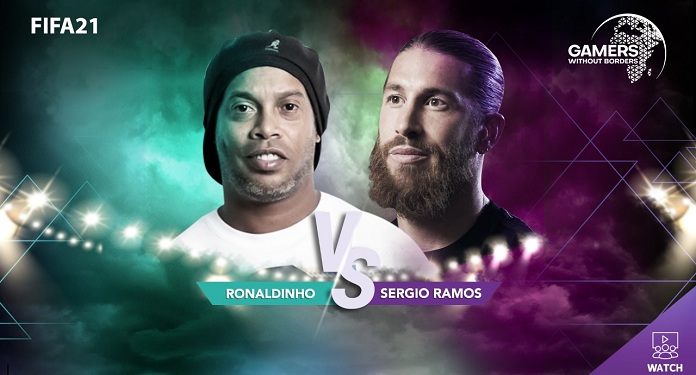 This Sunday, 20, Ronaldinho Gaúcho won a duel against the Spaniard Sergio Ramos, former captain of Real Madrid. The two big names in world football faced each other in a match of EA SPORTS™ FIFA 21, part of the programming of Gamers Without Borders, the biggest e-sports charity event on the planet.
"I had a lot of fun. Ramos is a great friend, a guy I respect a lot. We played against each other several times, but always with great respect for each other. It was a very different day, but very happy," said the Brazilian.
The challenge between Sergio Ramos and Ronaldinho was worth a donation of around $50,000 to Gamers Without Borders. The winner will pay 30,000 dollars, while the loser will pay the other 20,000 dollars. Throughout this year, the organization wants to raise a total of 10 million dollars for nations that were unable to acquire vaccines against COVID-19.
The clashes against the Spanish defender are part of some of the most memorable episodes in Ronaldinho's career, elected by FIFA as the best player on the planet for two consecutive years, 2004 and 2005. The defender was acting, for example, when the Brazilian led a triumph of Barcelona 3-0 over Real and was applauded at the Santiago Bernabéu.
Ronaldo raised expectations for a duel with 'provocations' on social networks
Last Friday, Ronaldinho made a provocation via Twitter by publishing an image of the match in a play disputed with the defender. On the other hand, Ranis claimed that in the season in which the photo was recorded, the title went to Real Madrid. These messages served as a warm-up for the challenge at FIFA 19.
This was, in fact, Sergio Ramos' "El Clásico" after officially announcing his departure from Real Madrid after 16 years. Last week, he participated in a press conference to communicate the end of his time with the merengue team, after not having reached an agreement with the direction to extend his relationship.
The challenge involving Ronaldinho and Ramos is part of a series of matches between celebrities on the GWB. After all, the schedule also features a clash between boxer Anthony Joshua and football player Jesse Lingard, this Monday, 20th.
About Gamers Without Borders
Gamers Without Borders is the largest eSports charity event in the world, connecting the gaming universe with extremely urgent social causes, such as the COVID-19 pandemic. The second edition includes a six-week e-sports festival with the main gamers, with live exhibition in several languages.
The winners of the competitions will donate 10 million dollars, which will be sent to international organizations that help countries fight the pandemic. The GWB is organized by Saudi Esports and promotes several community tournaments with some of the most famous games on the planet.