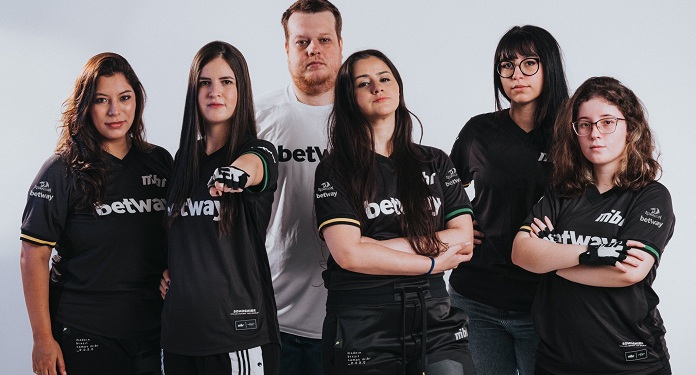 The online betting company with a strong presence in the Latin American markets, Betway has expanded its partnership with the Brazilian electronic sports organization MIBR. The intention is to include the CS: GO group of the Immortals Gaming Club (IGC) MIBR Women in the cooperation agreement with the brand.
In this way, the Brazilian women's team becomes the first partner in this Betway model, which is working hard to help promote women's participation in eSports and, above all, in Counter Strike.
The Women's MIBR has very high level players "committed to competitive excellence and proud to be part of this new chapter in the history of MIBR", appears in a statement from Betway.
Since the beginning of this year, the team has managed to stand out in the competitive sector, reaching three finals in a row and becoming the champion of GRRRLS LEAGUE, of GameXP.
To celebrate the signing of the contract, Adam Savinson, head of eSports at Betway, stated: "Based on our four-year partnership with the IGC MIBR team, we are excited to be able to bring more of his talent list to the Betway family." .
The director of MIBR, Yuri "Fly" Uchiyama, also spoke officially. "The women's Counter-Strike scene is growing more and more and we are very proud to be able to extend this partnership with Betway to support the promotion of this community."
https://twitter.com/mibr/status/1382710735436922886
About Betway
Betway is a global online gambling and betting company that operates in regulated markets. Launched in 2006, the company holds licenses in countries such as the United Kingdom, Malta, Italy, Denmark, Spain, Belgium, Germany, Sweden, Mexico, South Africa, Portugal and Ireland. The bookmakers have a wide offer with sports betting, online casino, eSports and much more.
Increase in eSports bets
The interest of one of the leading betting companies on the planet to expand its association with an e-sports team only shows that this market is going through a period of spectacular growth. There are more and more people following the official competitions and, consequently, placing bets on their favorite eSports players and teams.