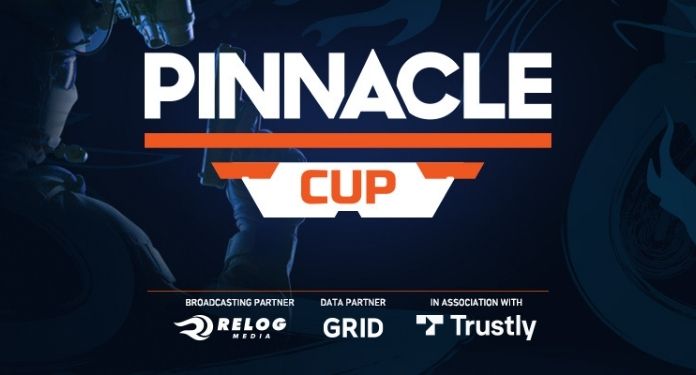 Pinnacle signed a partnership with electronic sports giants, Relog Media, to launch an innovative eSports event: the Pinnacle Cup.
The event, which is also supported by online payment provider Trustly as an auxiliary sponsor, has a substantial total prize pool of $ 100,000.
The Pinnacle Cup will be attended by top European CS: GO teams, and will be held online and will be broadcast on Twitch. It will take place throughout March, culminating in the final in early April.
The combination of Pinnacle's market-leading eSports betting product, the comprehensive provision of GRID data and the proven high production value provided by Relog Media means that fans can expect a world-class event.
Working alongside Trustly, Pinnacle will tell the story of the event with a detailed and unique view of the tournament, to bring fans closer to the action. Through various content streams, interviews, podcasts and competitions that will take place alongside the event, Pinnacle and Trustly intend to offer an experience unlike any other for eSports fans, new and old.
https://twitter.com/Pinnacle_Brasil/status/1363277006473994241
Paris Smith, Pinnacle CEO
"Pinnacle's effort to be at the forefront of eSports has allowed us to partner with some of the best in the market. We are very excited to be working with GRID, Relog Media and Trustly, and we can't wait to offer something special to our customers and eSports fans around the world. "
"We have demonstrated through previous partnerships that we are committed to giving back to the eSports community and helping the industry develop. It is another big step for Pinnacle as we continue to strengthen our connection with eSports fans. The launch of an event with the Pinnacle brand on this scale is a great time for us as a company and we hope it will be a real game changer for the industry. We can't wait to start the event and crown our first Pinnacle Cup champions! "
Ben Cove, Pinnacle CMO
"This is something that the team has been working very hard on for some time, and it's fantastic to be able to announce that the Pinnacle Cup has come true. We hope it is the beginning of something special. At Pinnacle, we really have eSports in our DNA, so while we intend to make this a commercial success for the organization, we are also proud to continue paving the way for eSports betting. "
"We know that Pinnacle offers the best eSports odds, and now we want to show that we can contribute to exceptional events that create mass appeal, resonating with a large worldwide audience, from those new to the scene, to the most demanding eSports community. ".
"We've worked hard to establish our reputation within eSports over the past decade, and it's great to be part of a pioneering concept that really goes the extra mile. Everyone at Pinnacle is looking forward to working alongside GRID, Relog Media and Trustly to ensure that together we show the best of CS: GO. "
Teams like Case Esports, and TeamOne will start in the initial qualifying phase, which will start on March 3, 2021 on TEBTV. Then four teams from the qualifying round will join 12 invited teams, including NEMIGA, Winstrike, HAVU and Godsent, in a Swiss-style group stage. The winning teams will progress through the knockout style playoff phase, where four more invited teams, including Fun Plus Phoenix, will be added, until they reach the final and compete for the USD 80,000 prize pool.
With the help of the GRID data partner, Pinnacle will offer a comprehensive selection of pre-game and live betting markets, with our low margin odds giving customers unparalleled value. The two will also work together, together with Trustly, to use available technology to support the streaming experience and content geared towards fans with data-based additions.
About Pinnacle Esports
Pinnacle is the original pioneer of eSports betting, having followed a path for more than a decade. One of the first bookmakers to accept an eSports bet in 2010, this online bookmaker has an unparalleled experience in the eSports market.
Pinnacle has eSports in its DNA and is based on a genuine and far-reaching connection with the community. In addition to offering the best eSports betting value online, Pinnacle is committed to helping fans navigate the world of eSports betting and enhancing the eSports experience on a truly worldwide scale.