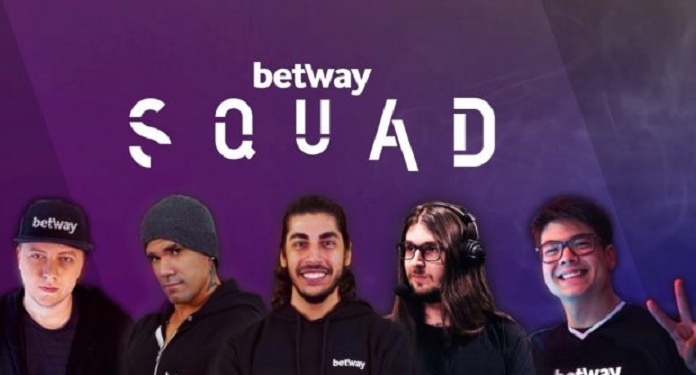 The online bookmaker Betway introduced the 'Betway Squad', a select group of popular personalities in electronic sports in Brazil. The list includes Gustavo 'Baiano' Gomes, content creator Daniels Marcon and streamers André Eidi 'esA' Yanagimachi Pavez, Bruno 'Axt' Habitzreuter and Sérvulo 'Sheviii2k' Junior.
According to the brand statement, the objective of the new 'Squad' is to "deliver fun content to the Brazilian community" while solidifying "the company's position as a market leader" in the country.
Betway's plans for their 'Squad'
As part of the deal, Betway ambassadors will interact with fan bases both on individual broadcasts and on the Betway TV Twitch channel. The bookmaker plans to use Betway TV as an activity center with exclusive material, gifts and multi-game coverage.
"We are excited to announce the 'Betway Squad', which brings together the most prestigious and beloved names in the eSports community. And, we look forward to seeing the content they produce, "said Paul Adkins, the company's director of Marketing and Operations.
Further demonstrating Betway's support for the national sports sports scene, the bookmaker recently extended its sponsorship agreement with the Brazilian team MIBR to 2021.
In this way, the brand will continue to appear prominently on the shirts of MIBR members. The renewal marks the fourth consecutive year that Betway has joined the CS: GO team at the Immortals Gaming Club.
In addition, the company confirmed that it continues its partnership relationship with the national multi-gaming platform, Gamers Clube.
Increase in eSports bets
The brand's action in having known names in the Brazilian electronic sports scene only reinforces that this market is going through a spectacular phase of growth.
Bookmakers are discovering and seeking to exploit all the potential that eSports have with the public, which is increasingly inclined to accompany their favorite players and teams in order to place bets in competitions in various modalities.