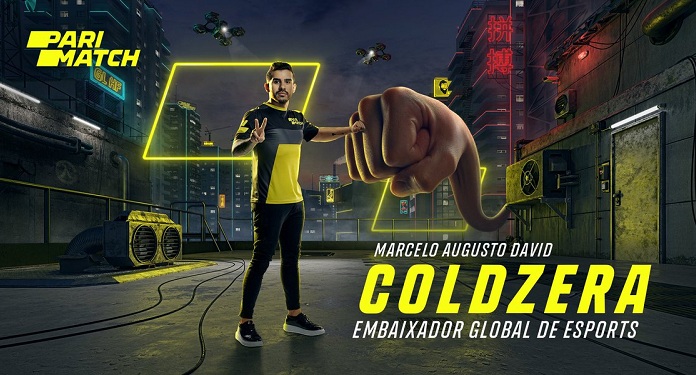 The betting company, Parimatch has just closed a partnership with the Brazilian Marcelo Augusto David, popularly known as "Coldzera". From now on, the Brazilian Counter-Strike: Global Offensive player will be the brand's new eSports representative.
The Brazilian gained wide repercussion by becoming the best CS: GO player in the world, for two years in a row (2016 and 2017). "I'm happy to announce my partnership with Parimatch, along with global sporting legends like Mike Tyson and Conor McGregor – it's an honor," said Cold.
He added: "I see Parimatch as a responsible company that is immersed in electronic sports and has a significant contribution – both in technology and in entertainment. And I want to make my contribution not only in the game – but, together with Parimatch, boosting esports in Brazil and in the world ".
The company's eSports director, Stepan Shulga, also spoke. "Great news for the Parimatch and eSports community. My company aims to become a global brand and this partnership with Cold shows esports fans in Brazil, opening the doors to global markets ".
Shulga added: "He will help us with communication – it is very important that eSports professionals share their inspiring experiences with fans. Welcome aboard, friend! Let's make the eSport planet spin faster! ".
https://twitter.com/coldzera/status/1357348407887556610
Parimatch's involvement with eSports
Parimatch is at the forefront of the electronic games segment, foreseeing the full potential for expansion and giving the same attention as traditional sports.
For this reason, a significant amount of the company is focused on creating resources for eSports to improve the user experience, which is why the company is seen as one of the main bookmakers dedicated to electronic sports.
In addition, the brand also has a betting agreement with the eSports team, Fnatic, and is a title partner of Virtus.pro. Two years ago, the company joined the largest CS championship in Ukraine, Logitech G National Cybersports League (NCL) and EPICENTER Counter Strike: Global Offensive (CS: GO).
And in recent times, Parimatch has even created its Dota 2 tournament, the "Liga Parimatch", being the first time that a bookmaker has promoted its own competition. Subsequently, the company also announced the launch of the Parimatch League CS: GO, an online championship for Counter-Strike teams.
About Coldzera
Marcelo David, the famous Coldzera, is a professional CS: GO player who defends the North American team of FaZe Clan. Considered by HLTV as the best CS: GO player on the planet for two years, Cold is part of the popular SK Gaming team, which was formed by MIBR and made history in the game.