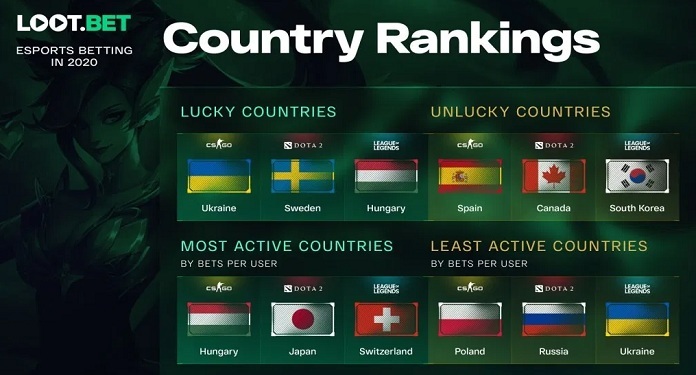 The bookmaker, LOOT.BET conducted a survey and presents last year's statistics on eSports betting. According to the survey, Counter-Strike: Global Offensive (CS: GO) tops the list as the most popular mode to bet on in 2020.
In 2020, most of the bets came from CS: GO, representing 53% of the total amount invested in electronic sports. Second place went to Dota 2 with a 35% share, while third place was occupied by League of Legends (LoL) with 7%.
It is interesting that in the context of classic sports, paused due to the pandemic, FIFA 21 – once one of the least popular games – managed to finish in fourth place, and Valorant, being a rookie in the world of eSports, closed in seventh place, ahead of established titles such as Overwatch and Rocket League.
The most successful bet on LOOT.BET last year earned the client a € 6,520 net profit prize, with only € 20 invested and the total odds of 327.
By the average betting value, the lead was LoL (€ 32.34), followed by King of Glory (€ 30.65) and Call of Duty (€ 27.20). The two most played games – CS: GO and Dota 2 – finish in 10th and 11th places, with € 21.41 and € 20.64, respectively.
Data on eSports last year
Among the 'big three' games, LOOT.BET users injected more money into the following events: ESL One Road to Rio (CS: GO), Epic League (Dota 2) and Legends Pro League Summer (LoL).
The most popular teams for betting were: Na'Vi (CS: GO), Team Nigma (Dota 2) and T1 (LoL). Regarding the average value of the bets, the champions were Team Liquid (CS: GO), Just Error (Dota 2) and Victory Five (LoL), while the maximum bets were on Heroic (CS: GO), Team Aster (Dota 2) ) and DAMWON Gaming (LoL).
Most of the money, in total, was earned thanks to Sprout (CS: GO), VP.Prodigy (Dota 2) and FlyQuest (LoL). In contrast, the teams that most disappointed fans were fnatic (CS: GO), Team Nigma (Dota 2) and FunPlus Phoenix (LoL).
LOOT.BET also shared country statistics, according to which the luckiest players were from Ukraine, Sweden and Hungary and the unlucky users came from Spain, Canada and South Korea.
The most active, due to the average amount of bets per client, were Hungary, Japan and Switzerland, while the least active in the same parameter were Poland, Russia and Ukraine. The highest odds on average were recorded in India, the Philippines and Poland.
Growth of LOOT.BET in 2020
Despite several events canceled due to the pandemic, such as The International, in 2020, LOOT.BET showed significant growth. Last year, the bookmaker saw an impressive 67% increase in betting volumes, while active users grew 58%.