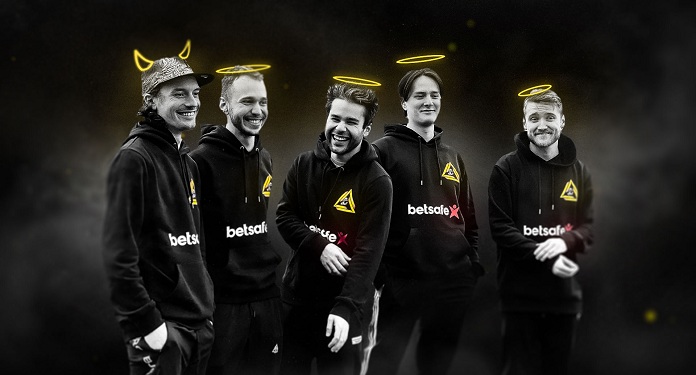 The sports betting brand operated by the Betsson Group, Betsafe, announced that it has signed a three-year sponsorship contract with the Swedish eSports organization, Godsent, focused on Counter-Strike: Global Offensive (CS: GO).
Betsafe's focus will be on the CS: GO team
From now on, Betsafe becomes an exclusive betting partner of Godsent. Although the organization consists of professional e-sports teams, as well as content creators in ten esports titles, including League of Legends and Dota 2, the focus of the hit will be on the CS: GO team.
The operator added that, in addition to the brand exposure and financial support, the contract projects close collaboration and activation of social media.
The deal was facilitated through a partnership between the data provider, GRID Esports and Godsent. Therefore, GRID will provide a wide variety of content for the next Godsent matches.
Kim Ekelund, head of marketing for the Betsson Group in Sweden, said: "eSports has gained a lot of momentum in the past two years and the global pandemic has further consolidated its place. With all major sporting competitions being postponed, more attention was directed to electronic sports, increasing its mainstream appeal ".
He added: "For this sponsorship we chose Betsafe. I believe that there is still much progress to be made in the area of ​​eSports and this sponsorship between the ambitious GODSENT and Betsafe is a concrete example of our commitment to the future of electronic sports ".
Ludwig Sandgren, chief executive of Godsent, said that Betsafe "will become a differentiator for the CS: GO division and will be a great strategic partner as we become a world-class organization".
Betsson celebrates third quarter 2020 results
The results published by the Betsson Group in October showed an increase of 31.5% in the third quarter of 2020, after a strong performance in the vertical of the casino and a relevant contribution of sports betting.
The group's revenue as of 30 September totaled £ 147.2 million, up from the same period last year.
Although the casino remained the main source of revenue, the operator also noted an improvement in sports betting, which increased by 12.1%, representing 21% of earnings in the third quarter.