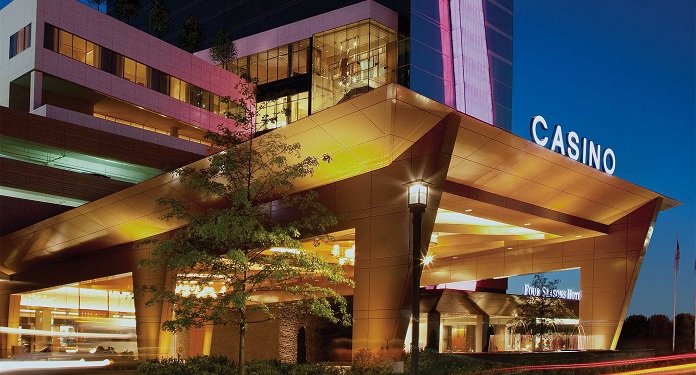 Gaming and Leisure Properties Inc. (GLPI) reported an increase in revenue and net income for fiscal 2022 following a company-record performance in the fourth quarter.
During the fourth quarter, GLPI agreed to establish a new lease for seven Penn Entertainment properties, including a financing option to allow Penn to pursue growth opportunities in several of its existing markets, including Illinois, Ohio and Nevada.
This followed other significant activities earlier in the year, including the sale of the Tropicana Las Vegas Hotel and Casino to Bally's Corporation, a $1 billion lease on two Rhode Island casinos, the acquisition of several Bally's casinos and the purchase of two Pennsylvania properties from The Cordish Companies.
GLPI Chief Executive and President Peter Carlino said these deals set the group up for further growth in 2023, with GLPI shortly after the end of the year having also acquired Bally's Tiverton Casino & Hotel in Rhode Island, and the Bally's Hard Rock Hotel & Casino Biloxi, Mississippi.
"We ended 2022 with record fourth-quarter results and increased dividends, as our deep and long-term knowledge of the gaming industry has allowed us to continually expand and diversify our tenant base, geographic presence and rental flows," said Carlino.
"Reflecting this continued expansion, since our establishment as the gaming industry's first REIT, GLPI has grown from an owner with one tenant and 19 properties to a premier owner with six tenants and 57 properties in 17 states in 31 December 2022".
Record fourth quarter
As of the fourth quarter, revenue for the last three months of the year totaled $336.4 million, up 12.8% from $298.3 million in the fourth quarter of the prior year.
Of that total, $299.2 million came from rental income – including $116.8 million from Penn's main license – while the remaining $37.1 million was attributable to income from lease investments and financing receivables.
Operating expenses declined 35.1% to $60.9 million, primarily due to a $22.0 million positive impact from the allowance for credit losses. After also including $75.2 million in finance costs, this resulted in a pre-tax profit of $200.2 million, up 47% year-over-year.
GLPI paid US$624,000 in income tax and was also responsible for a loss of US$5.5 million from its share in an operating partnership, meaning that it ended the quarter with a net income of US$194.1 million, an increase of 62.3% compared to 2021. In addition, adjusted EBITDA increased 12.6% to US$ 312.0 million.
Full year
Moving to the full year, total group revenue increased by 7.9%, from $1.22 billion in 2021 to $1.31 billion. This included $1.17 billion in rental income and $138.3 million in investment income from leases and financing receivables.
Operating expenses declined 24.8% to $281.8 million, helped by a positive impact of $67.5 million from disposal gains, while other costs for the year totaled $309.6 million.
As such, pre-tax earnings were 28.1% higher to $720.3 million, while after accounting for $17.1 million in income tax payments and a $18.6 million loss from the partnership operational, GLPI had a net profit of US$ 684.7 million, an increase of 28.2% in the year. Additionally, full-year adjusted EBITDA was 11.4% higher to $1.22 billion.
"Looking to the future, we believe GLPI is well positioned to deliver long-term growth based on our relationships with gaming operators, our rights and options to participate in future growth and expansion initiatives for select tenants, and our ability to structure and finance innovative transactions at competitive prices", concluded Carlino.