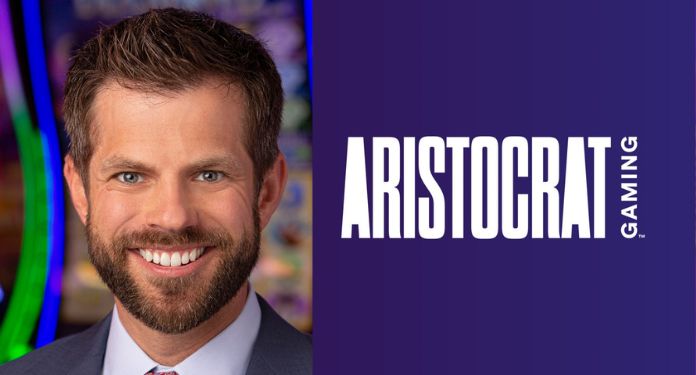 Aristocrat Gaming is one of the world's leading providers of premium gaming content and technology, operating in over 300 gaming jurisdictions worldwide.
On this occasion, the iGaming Brazil portal interviewed its General Director for Latin America, Europe, Asia and Africa, Christopher Rowe, who spoke about his career in the company, starting as an intern, and reaching Managing Director today.
Chris Rowe speaks of the innovation that the company's games have brought to its clientele, highlighting the success of notable games such as Fu Dai Lian Lian and Bao Zhu Zhao Fu.
In addition, the Director speaks with optimism of the imminent arrival of regulation for gaming and betting in Brazil and how it will affect the company's operation in the following years.
Check the interview in full.
iGaming Brazil – Chris, can you talk about your career at Aristocrat?
Chris Rowe – It has been an exciting 18 years at Aristocrat, and that time really speaks to how the company helps its people reach their maximum potential. I started as an intern and did two summer internships at Aristocrat in Las Vegas, and I was afforded the opportunity to work in many different functions – sales & marketing, HR, compliance, and manufacturing. Then I moved to Macau and led our operations there for five years, and now am managing director for LatAm and EMEA. I'm incredibly grateful to the company and my mentors for helping me grow and allowing me to experience most major gaming markets in world.
iGaming Brazil – Aristocrat recently won the 'Live Industry Vendor of the Year' award at Las Vegas G2E for the fourth consecutive time during the Global Gaming Awards, celebrated at the fair. What does this recognition mean for the company?
Chris Rowe – That was a fantastic honor, and since then we won the Best Land-Based Betting & Gaming Product in the SBC Latinoamérica Awards. All these awards are a tremendous recognition of the talented and creative people who make our games. It's their hard work, dedication, and commitment to our customers success that makes everything we do possible. Specific to the SBC Latinoamérica Awards, I'm proud of the way our teams have forged relationships with our customers throughout the entire region – from Mexico to Argentina – and whose insights have enabled our design teams to create products for these unique marketplaces that players continue to respond to.
iGaming Brazil – Aristocrat had many innovative products in recent years, the Buffalo and Lightning Link series, citing the two most copied in the industry. How important are these products to the company's success?
Chris Rowe – It's not about how important they are to the company's success; it's about how important they are to our customers' success, and we are thrilled with the affinity players continue to have for these brands and for each game in the franchises, which are arguably the biggest in gaming. As we talk about Lightning Link and Buffalo, and other franchises that have grown from them such as Dragon Link, Dollar Storm, Lightning Dollar Link, and Buffalo Link, we have carefully created gaming experiences that all types of players can enjoy, and that includes creating versions specifically for Latin American markets. In my 18 years at Aristocrat, I've noticed it's when we focus on our core brands that we have the most success, and that focus gives us a platform on which to grow other propriety brands and continue to innovate, with notable new games such as with Fu Dai Lian Lian and Bao Zhu Zhao Fu, both of which brought exciting new ways to play and have been big hits with players.
iGaming Brazil – What is the profile of the Latin American player and region? In terms of betting and gambling behavior, are they different from Latinos?
Chris Rowe – One of the things that separates Aristocrat is our insistence on not looking at LatAm as a single region with a single culture or economy. We look at each country and embrace the differences of those local markets. Each individual region has its own definition of an entertainment experience, whether players want a more entertainment-style game or a more volatile game, and we spend a lot of time considering those differences and then developing a tailored strategy and creating games that will resonate with our customers and their players.
iGaming Brazil – How has the Las Vegas market grown and how do you see the growth of the Brazilian market even though there is no regulation yet?
Chris Rowe – With the right regulation, Brazil has the potential to be a very vibrant market, and we are excited for the possibilities as regulators continue to find their way forward.
iGaming Brazil – What are Aristocrat's plans after the regulation of the Brazilian market?
Chris Rowe – It does all hinge on the regulation, what forms of games are allowed, and who chooses to operate in the market, and we will take each of those aspects into thoughtful consideration.
iGaming Brazil – What are the company's future projects?
Chris Rowe – In the future, we will continue to do what we do today, and that's to focus on our people, our customers, and our business, creating the best games that perform well for our customers. We are also excited about Aristocrat's new real money gaming venture, Anaxi.