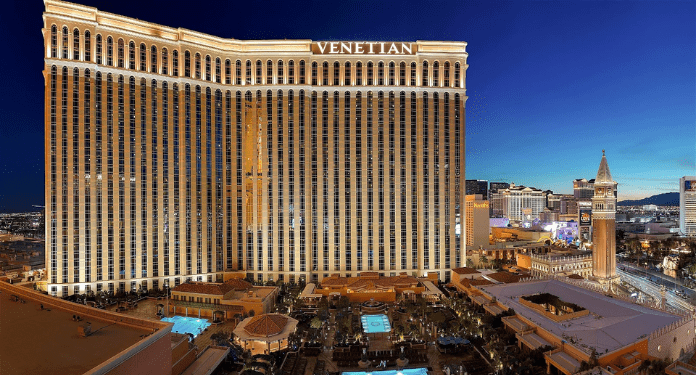 The owner of The Venetian, private equity investment firm Apollo Global Management, plans to distribute a dividend of approximately $620 million to investors, in addition to distributing bonuses to the resort's 7,000 employees.
The Nevada Gaming Control Board Wednesday recommended approval of this action, which is required by regulation due to the fact that Apollo's operating subsidiary is privately owned. The Board is expected to consider the request on 17 November.
Representatives for The Venetian did not specify the amount of bonus the workers will receive, as this will be announced at a meeting with employees. However, they said that each employee would receive the same amount, according to the Las Vegas Review-Journal.
The Control Board was required to review the distribution to ensure that the company maintains an adequate debt balance and continues the financial stability of its operation.
The Venetian's chief financial officer, Robert Brimmer, said the resort has substantially exceeded expectations since Apollo acquired the property for $6.4 billion from Las Vegas Sands Corp. in February. The deal was first announced in March 2021.
He also said the company had "better than expected" financial results in the hotel, casino, food and beverage, and meeting and convention businesses. It has managed to maintain high space and occupancy rates since Apollo took over.
According to the CFO, the company intends to invest $1 billion in the property over the next three years, remodeling rooms and expanding and upgrading the casino floor with more slot machines. The investment represents one of the most significant upgrades to the resort's spaces.
Nevada Gaming Control Board members said they were concerned about The Venetian's financial stability because Apollo "has not had a long history of operation." Apollo private equity partner Daniel Cohen said the company did not anticipate such a massive recovery from the pandemic, and saw greater profitability after leaders became more familiar with operations.
Cohen said that when the transaction was signed in March 2021, the company was underwriting the transaction "at a very different time in history," reports Review-Journal. "When we closed the transaction, we were in recovery, but we didn't know the deal," he noted. "We didn't even know what the business plan was and it took us three or four months to figure it out."