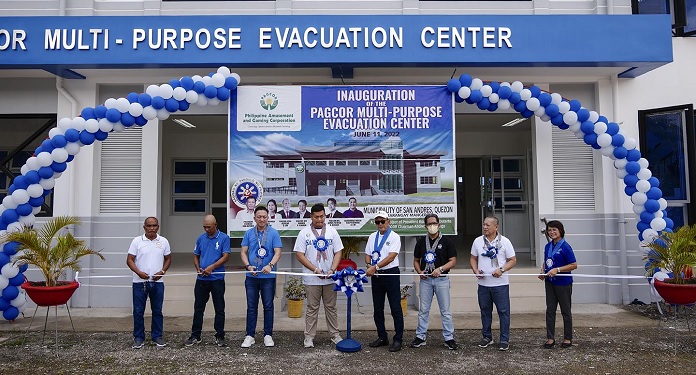 A new evacuation facility funded by the state gaming corporation of the Philippines is finally ready for use, one year after construction began. With over $545,000, Philippine Amusement and Gaming Corporation (PAGCOR) has opened the evacuation center located in San Jose del Monte, a city in Bulacan province.
PAGCOR described the multi-purpose structure as a "basketball court type evacuation facility" with an array of amenities including comfort rooms, a stage area and bleachers.
Meanwhile, San Jose del Monte Mayor Arturo Robes said the PAGCOR-funded facility was the first of its kind to be built in the city. Most centers – including school buildings and gymnasiums – are not as "robust and adequate to accommodate disaster-affected residents".
"We are very grateful to PAGCOR that we have been blessed with such a beautiful and modern facility that can house the residents we evacuate during serious disasters. In addition to being very spacious, it is also very comfortable to host many special programs here in our city", stated Robes.
More multipurpose evacuation centers (MPEC) will be introduced in the coming days, said PAGCOR president and CEO Andrea Domingo. "We hope that more provinces and communities will benefit from this project very soon, as most of those to whom we have granted construction funding have already finished building their respective evacuation centers."
Tropical cyclones, also known as typhoons or hurricanes, are among the most violent weather events and the Philippines is one of the most impacted countries in the world – hence the importance of robust evacuation facilities.
About PAGCOR
Philippine Amusement and Gaming Corporation (PAGCOR) is a 100% government-owned corporation controlled by the Office of the President of the Republic of the Philippines. The Corporation was created from a Presidential Decree issued by the then President, Ferdinand Marcos, aiming to combat irregular casino operations in the country.
The law creating PAGCOR was later amended and consolidated under PD 1869, also known as the PAGCOR Charter.