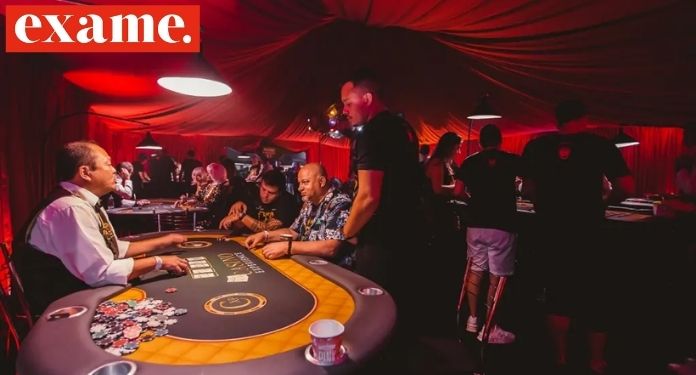 Gambling and casinos are a major attraction around the world, and this would be no different in Brazil, where some events seek the opportunity to offer a diverse casino experience for fans of the country's game.
Carnival – one of the biggest parties in the world – could benefit greatly from the modality to generate even more opportunities in income and job creation in this period of celebration. And, apparently, this is about to happen; after 2 years without the traditional parades, São Paulo's carnival will return with great news.
According to EXAME, the Anhembi Sambadrome will have a 'legal' casino, with game tables, roulette wheels and various elements of a traditional casino.
Check out the full article about the casino at carnival
The Camarote Bar Brahma will return to the Anhembi Sambadrome after two years of waiting – due to the pandemic, the carnival parades have not taken place since 2020. And the space will have something new for guests: a casino with betting tables with a croupier (responsible for coordinating each game), card games and roulettes, as well as saleswomen in the style of traditional cigarette girls.
This casino will be available to all sectors of the Camarote Bar Brahma, which is divided into three different spaces (CBB, Varanda Premium and VIP Area, with tickets ranging from 790 reais to 2,190 reais). There will also be a themed bar signed by Johnny Walker Black, from Diageo, for the integration between the internal area, dedicated to games, and the entire external structure of the space.
To comply with Brazilian legislation, the casino will have its own currency, called Camaroteco, which can be exchanged for products from the Camarote Bar Brahma. And all players who participate will already be entitled to 20 Cabins right at the entrance of the space, to start betting. To carry out the game activations, the event signed a partnership with a specialized company in this sector.
"Our idea is to increase the entertainment experience for customers at Camarote Bar Brahma, allowing them to experience disruptive moments of leisure and providing an immersion in the universe of casinos, which is still an experience little present in Brazil, in addition to opening the possibility of have fun winning prizes", says Cairê Aoas, a partner at Diverti, producer of the cabin.
The bill that legalizes gambling in the country – which includes, in addition to casinos, bingos, animal games and online disputes – was approved by the Chamber of Deputies at the end of February this year. With a view to regulating taxation and collection of operations, in addition to defining permanent or fixed-term licenses, the proposal was sent to the Senate.