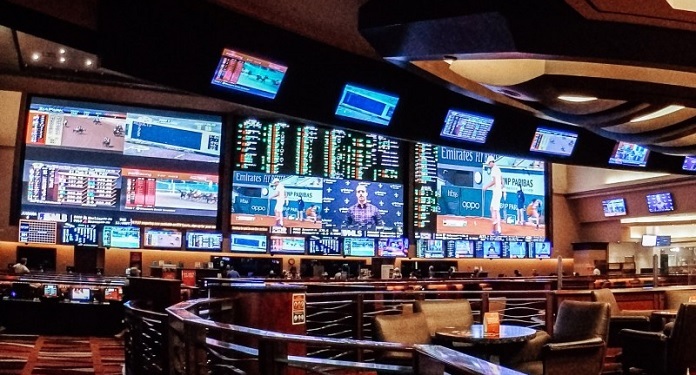 The American Gaming Association has released its Commercial Gaming Revenue Tracker figures, which feature performance data for each state and national with breakdowns for individual gaming verticals for November 2021 US betting market revenue.
In the 11th month of last year, the record mark for commercial gaming in the US continued as the industry marked the second highest grossing month of all time. Combined revenue from traditional casino games, sports betting and iGaming reached $4.85 billion, growing 35.3% from November 2019 and 1.3% from October 2021.
iGaming and sports betting revenue accounted for 20.9% of the total, largely due to record monthly sports betting, driven by football. Prior to 2021, monthly gaming revenue had a solid $4 billion ceiling that had never been surpassed. November now marks the 9th consecutive month with gaming revenue exceeding $4.4 billion.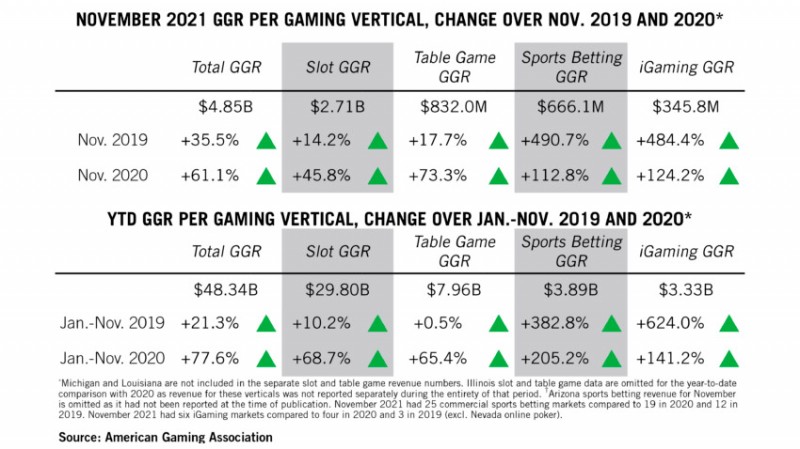 While December revenue has yet to be reported, 2021 annual gaming revenue reached $48.34 billion by the end of November, breaking the 2019 annual industry record of $43.65 billion and 21, 3% ahead of the same 11-month period in 2019.
When it comes to each state, 23 of the 26 commercial gaming jurisdictions that were operational as of November 2019 saw revenue growth that month, with monthly gaming earnings falling only in Kansas (-10.6%), Louisiana (-6, 3%) and New Mexico (-9.1%).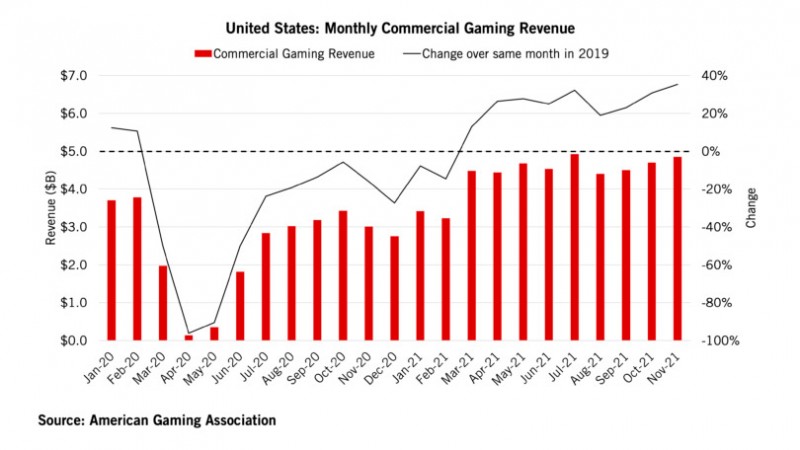 By the end of November 2021, 16 of the 26 jurisdictions had exceeded their 2019 annual revenue. Ten states have already surpassed their annual gaming revenue records: Arkansas, Colorado, Florida, Iowa, Massachusetts, Michigan, Oklahoma, Oregon, Pennsylvania and South Dakota.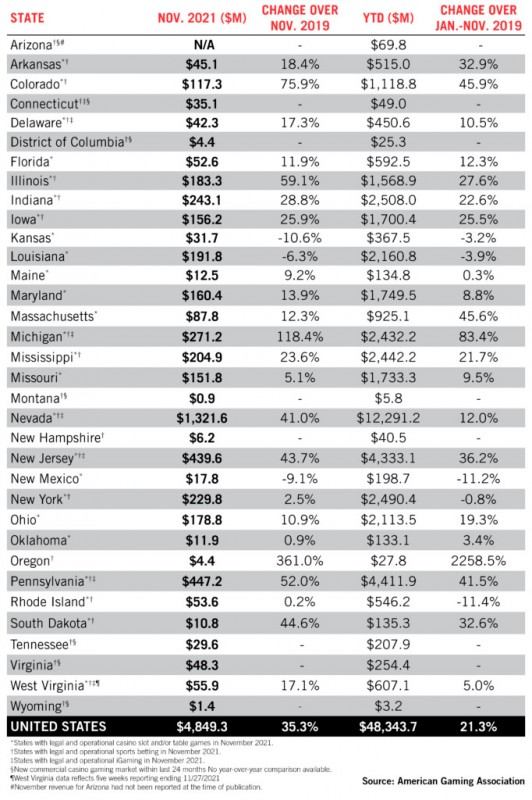 Casino data
Five regional markets showed no change in their casino admission levels despite the start of the holiday season: Illinois, Iowa, Louisiana, Mississippi and Missouri. However, visitation levels remain notably lower than in 2019.
Across the states, declines from November 2019 ranged from -17.6 to 30.4%, with the slight decrease due to a less favorable calendar as November had one less weekend. Las Vegas visitation is down 11% from 2019, compared to -8% in October, according to the Las Vegas Convention and Visitors Authority.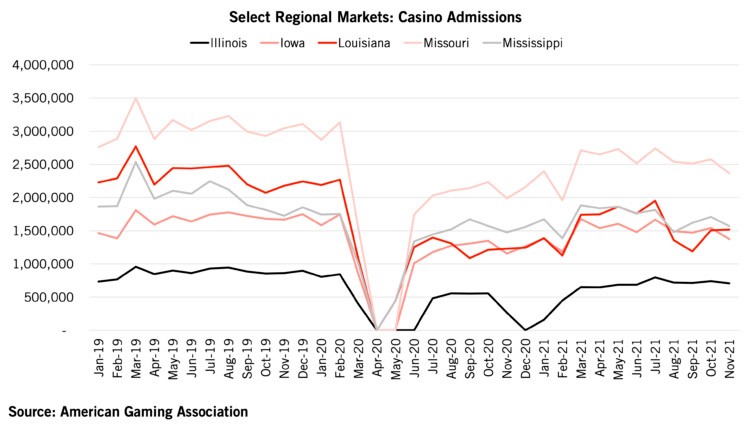 Average slot game and table game revenue per casino entry also surpassed pre-pandemic levels in November, with monthly casino earnings per visitor for the five states between 10.1 and 37% over averages. November 2019.
Nationally, physical slots and table games generated combined revenue of $3.83 billion, up 12.2% from November 2019 but down 3.6% sequentially. Slots revenue reached $2.71 billion, up 14.2% from 2019, while table games recorded $832 million, up 17.7% from 2019.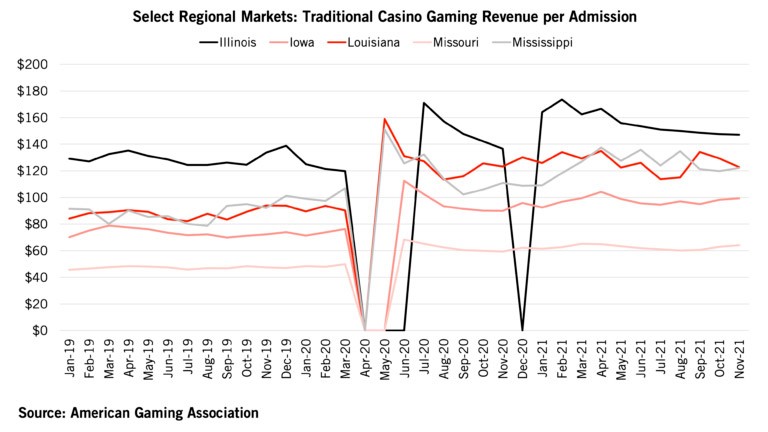 Year-to-date through November, slots and table game revenues reached $41.08 billion, close to the industry record annual $42.24 billion in 2019 and 6.4% ahead of the same period. eleven months of that year.
At the state level, 17 of the 25 gaming states with slots and table games have seen combined revenue from these verticals grow as of November 2019, with 15 of the jurisdictions on track to surpass revenue from slots and table games of the entire year.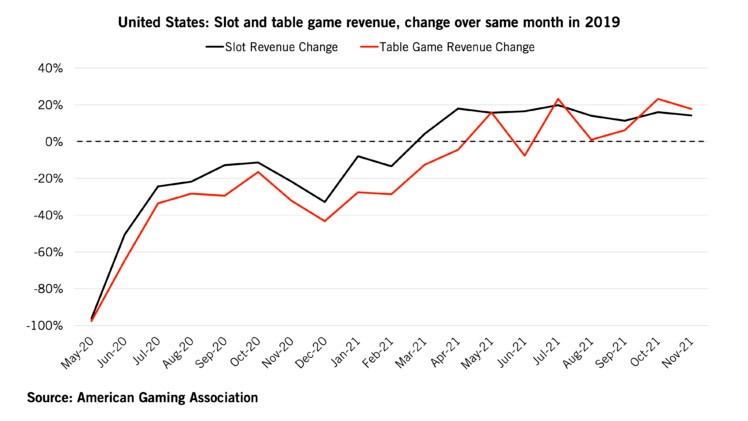 Sports betting and iGaming
The football season has boosted sports betting in the US, with the industry posting its highest monthly revenue of $666.1 million, up 112.8% from November 2020 and breaking the previous record set in October 48, 5%.
The all-time highest monthly revenue was driven by favorable event results throughout the month as the nationwide retention percentage rose to 9.6%, up from 5.9% in October. US control reached $6.94 billion, down from $7.55 billion in October. The November numbers will increase even further when the Arizona data is released.
Sports betting in the 11th month of last year was also boosted by Louisiana's first full month of betting, with eight physical bookmakers accepting bets through the end of the month, generating $27.6 million in revenue.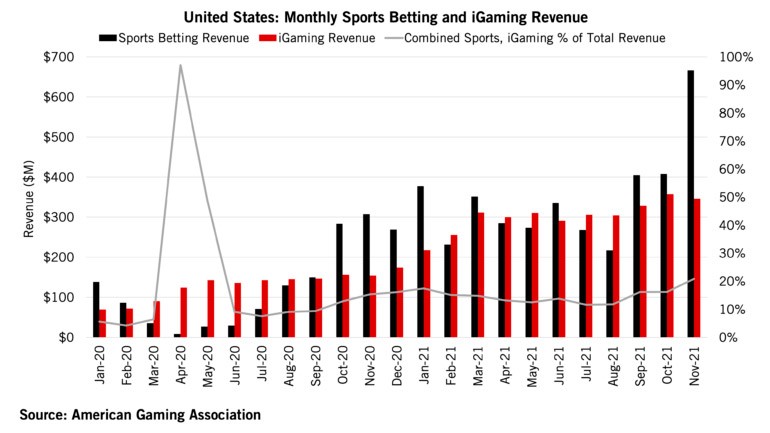 iGaming in Connecticut, Delaware, Michigan, New Jersey, Pennsylvania and West Virginia hit $345.8 million in November, up 124.4% year-over-year but down 3.2% from October's record level .
Together, iGaming and sports betting revenues accounted for 20.9% of total commercial gaming revenue in November, largely due to the record month for sports betting. This is the highest participation ever for these verticals, except for April and May 2020 when almost all casinos were closed.