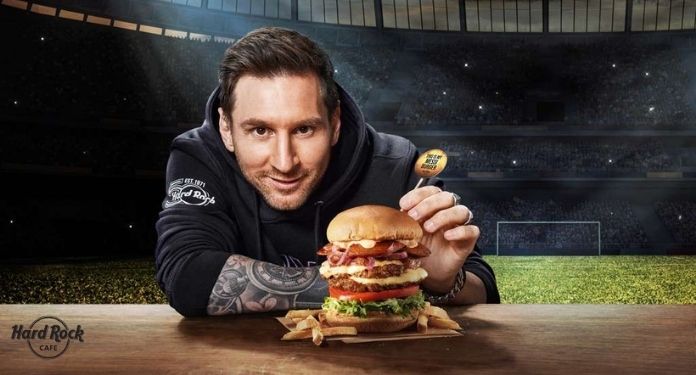 Hard Rock International will bring a "Messi Burger" to the Hard Rock Cafe Miami and Hollywood, Florida locations. Dining at these two restaurants will be able to feature the company's new menu item ahead of its global launch on March 1.
The new burger is part of the operator's 'Live Greatness' campaign in partnership with football icon Lionel Messi.
Hard Rock called the burger "a tribute to the ideal components of the football sensation burger" with 10 "tasty" ingredients for a "game changer" in the company's Legendary Steak Burger.
The "Messi Burger" features a double stack of ground beef crust, topped with provolone cheese, sliced ​​chorizo, caramelized red onions, and a special Hard Rock sauce, served on top of sliced ​​pomegranate lettuce and tomato, and sandwiched between two toasted brioche buns. .
Customers will be able to enjoy the new menu item for $11.95, with an optional fried egg on top for an additional $2, and a side of seasoned fries for an additional $3.95.
Another action by Hard Rock with the Argentine player
"It's an honor to take our partnership with world-renowned soccer star Lionel Messi and the Live Greatness campaign to the next level with our 'Legendary Steak Burger' campaign," commented Jon Lucas, Chief Operating Officer at Hard Rock International.
"We are excited to launch Messi Burger as a pilot program in Florida, right in our own home, as we prepare for a global launch in March."
The company unveiled its Live Greatness campaign last year to coincide with the company's 50th anniversary on June 14, 2021.
In addition to a hamburger, the operator launched a new clothing collection featuring Messi, who also appeared in a TV commercial for the company.