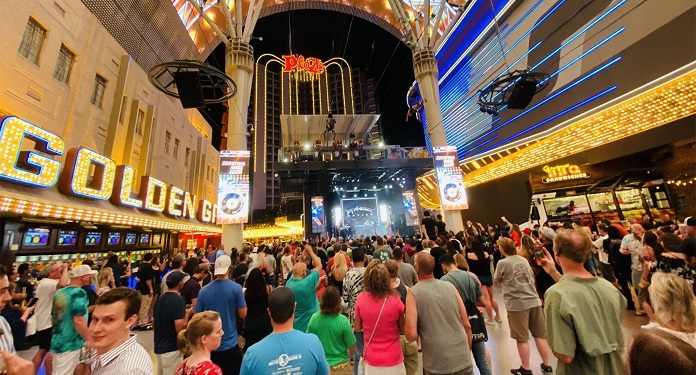 Las Vegas fully reopened its casinos, hotels and restaurants at midnight on Tuesday, June 1, when the final restrictions related to Covid-19 expired, including capacity limits, social distance and other limitations.
Previously, casinos with 80% of staff vaccinated could operate at 100% capacity, but many locations did not meet this limit. With all the companies back now, The Fremont Street Experience hosted what they're calling "Downtown Rocks Again!".
Many visitors gathered downtown at the Fremont Street Experience to hear live music and celebrate the full midnight reopening. Three stages were set up and offered live music from different bands. The Viva Vision Canopy screens also counted down to midnight.
A recorded message by Las Vegas Mayor Carolyn Goodman was shown and Fremont Experience employees were present. Headliners included Spandex Nation and Zowie Bowie, as reported by NewsNation.
With this full reopening, one of the largest so far in the United States, those vaccinated will no longer need to wear masks or practice social distancing. Restaurants and stores return to normal hours and there will be no capacity restrictions.
However, many companies are following state and federal guidelines that say people who are not fully vaccinated should continue to wear the mask. With vaccinations eliminating new Covid-19 infections, the city is betting heavily that people will follow the rules and wear masks and keep their distance if they don't get vaccinated.
Casinos and other sectors of Las Vegas show optimism with the reopening
After the opening celebration, the city's casinos began tearing down the acrylic partitions that kept customers separate at slot machines and other gaming stations. Vaccines, in any case, are providing a much-needed boost of economic vitality for the city that relies heavily on tourism.
Las Vegas' unemployment rate rose to 34% in April 2020, one of the worst rates in the country, according to the US Bureau of Labor Statistics. "It's been harder in Las Vegas than probably any city in the United States," said Steve Hill, president of the Convention and Las Vegas Visitors Authority.
Hill added: "Hotels are 80% busy on weekends now, and about 50% on other days. We need meetings and conventions to come back and recover."
Next week, LVCVA will debut its nearly $1 billion expansion of the city's convention center when it hosts the country's first major trade fair since the start of the pandemic. With tens of thousands of people in attendance, it will be "the first what we call a municipal event to take place in the United States," Hill said.
The Venetian Resort has sold out its convention space in the last seven months of this year, according to CEO George Markantonis. "We have normal business that we would have in the pre-pandemic mid-year to the end of the year."
Virgin Hotels Las Vegas opened its doors earlier this year and says it continues to hire workers for its new property. JC Hospitality CEO Richard Bosworth said his company is leveraging guest returns at 100% capacity, as well as raising the level of open spaces in Las Vegas.