Billionaire Sheldon Adelson and supporter of U.S. President Donald Trump, who died on Tuesday at the age of 87, was buried in Jerusalem.
The magnate's coffin was received by Israeli Prime Minister Benjamin Netanyahu and Adelson's wife, Miriam, on Thursday night, 14, and was buried on Friday, 15.
Adelson, who built a casino empire from Las Vegas to China and became a unique force in international politics, was being treated for non-Hodgkin lymphoma.
With an Israeli flag, Adelson's coffin arrived at Ben Gurion airport on Thursday, and was received by Israeli Prime Minister Benjamin Netanyahu, who was photographed alongside Miriam Adelson. The coffin was taken to the Jewish cemetery on the Mount of Olives in Jerusalem.
The site is considered the oldest and most important Jewish cemetery in Jerusalem, with burials that began about 3,000 years ago. The site has between 70,000 and 150,000 tombs, featuring some of the most significant figures in Jewish history.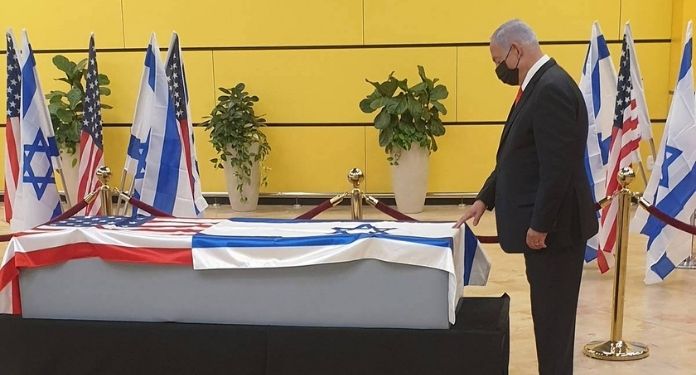 Sheldon Adelson is revered by Trump, Bush and Netanyahu
Adelson is being revered in Israel as a powerful benefactor with direct access to US presidents. But others on Wednesday, 13, cited a legacy tinged with controversy. The tycoon had an alliance with Netanyahu and spent tens of millions of dollars supporting President Donald Trump's election campaigns.
Trump paid tribute to Adelson after his death on Tuesday. "His ingenuity, genius and creativity have earned him immense wealth, but his philanthropic character and generosity are his big name," Trump said in a statement.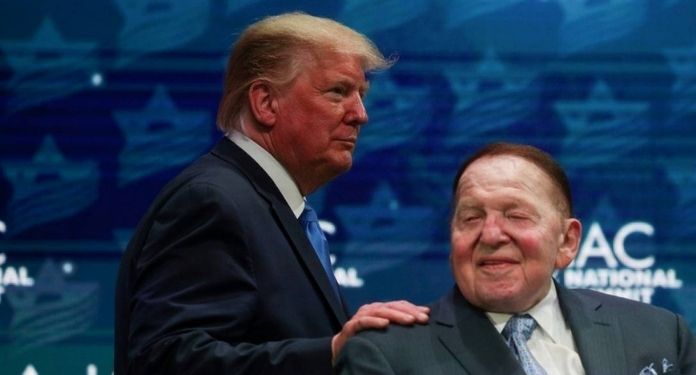 He added: "Sheldon was also a staunch defender of our great ally, the State of Israel. And, he was faithful to his family, to his country and to all those who knew him. The world has lost a great man. He will be missed ".
Adelson and his wife Miriam, 75, set new records for political donations in the 2020 presidential cycle, giving a total of $ 218 million for President Donald Trump's campaign and various Republican causes.
Former President George W. Bush called Adelson "an American patriot". "Sheldon struggled out of a tough Boston neighborhood to build a successful company that employed tens of thousands and entertained millions," said the former president.
Netanyahu, in a series of praises, called Adelson 'an incredible champion of the Jewish people, the Jewish state and the alliance between Israel and America'.
Sheldon Adelson's trajectory
The son of Jewish immigrants, Adelson was raised with two brothers in a Boston tenement and in the second half of his life he became one of the richest men in the world. His father was a descendant of Ukrainian and Lithuanian Jews, while his mother had immigrated from England.
He was the major shareholder in Las Vegas Sands and one of the biggest casino moguls in the world. The company owns Venetian and Palazzo hotels and casinos on the Las Vegas Strip, along with properties in Singapore and Macau.
The president and CEO of Las Vegas Sands Corporation brought singing gondoliers to the Las Vegas Strip and correctly predicted that Asia would be an even bigger market.
In 2018, Forbes ranked it 15th in the US, with an estimated net worth of $ 35.5 billion. "If you do things differently, success will follow you like a shadow," he said during a 2014 lecture for the gaming industry in Las Vegas.
Personal life
Adelson was married twice. He and his first wife, Sandra Shapiro, divorced in 1988. Three years later, he married Miriam Farbstein-Ochshorn, an Israeli doctor he met at a blind date who many believe helped to deepen his involvement with Israel.
His honeymoon trip to Venice inspired Adelson to destroy the historic hotel-casino Sands, and replace it with two huge complexes: The Venetian and The Palazzo, one of the tallest buildings in the city.
Sheldon Adelson adopted the three children of his first wife – Gary, Mitchell and Shelly – and had two children, Adam and Matan, with his second wife. He also had two stepsons, Yasmin Lukatz and Sivan Dumont; and 11 grandchildren.
Among several philanthropic projects, he and Miriam Adelson were especially committed to the research and treatment of substance abuse, a personal cause for Adelson.
Her son Mitchell, from her first marriage, died of an overdose in 2005 and Adelson spent millions opposing Nevada's efforts to legalize marijuana.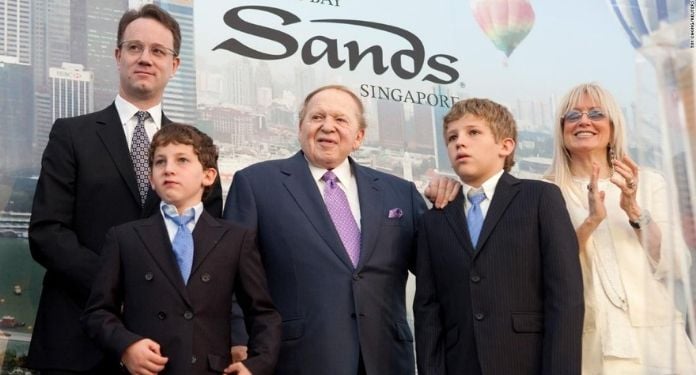 "Much has been written and said about how Sheldon, the son of poor immigrants, reached the height of business success with the strength of his courage and genius, inspiration and integrity," wrote his wife Miriam in a statement on Tuesday.
She continued: "His story was based entirely on the American dream of entrepreneurship. When Sheldon launched a new venture, the world looked on expectantly. Sheldon was the love of my life. He was my partner in romance, philanthropy, political activism and entrepreneurship. He was my soul mate ".
Miriam concluded: "For me – as well as for his children, grandchildren and his legion of friends and admirers, employees and colleagues – he is totally irreplaceable".
Influence on politics
With Adelson's death, Israeli Prime Minister Benjamin Netanyahu loses an important US supporter who, over the past four years, has been heard by the American president and has worked tirelessly to promote Israel's priorities in the White House and in Congress.
He also says goodbye to an important backstage figure in Israeli politics who financed an influential free daily newspaper that served as Netanyahu's unofficial spokesman.
"Sheldon's great actions to strengthen Israel's position in the US will be remembered for generations," Netanyahu said in a statement, adding that he received news of Adelson's death with "deep sadness and sadness. '
Senate majority leader Mitch McConnell was also among those who paid tribute to Adelson. "Our nation lost a notable American with the death of my friend Sheldon Adelson," said McConnell in a statement.
Republican House leader Kevin McCarthy called Adelson "one of the greatest and most generous entrepreneurs in history". "Sheldon Adelson had a deep love for the country, the community and Israel," added McCarthy.
Fortune and investments in Asia
Adelson, who said he disdained the e-mail, started making a fortune with a technology fair, starting the COMDEX computer convention in 1979 with partners before selling his stake in 1995 for more than $ 800 million.
When he bought the Sands Hotel in 1989, he thought that convention space, not just gambling, would make a profit. Yes, he built a convention hall to keep his hotel rooms occupied during the week, and others soon followed the business model.
Meanwhile, his effort to replicate the business in Macau, the only Chinese province to allow gambling, has made his wealth grow exponentially. Its revenues in the region quickly surpassed its holdings in Las Vegas.
He later expanded his business to Singapore, where his hotel Marina Bay Sands and its infinity pool were featured in the smash-hit film "Podres de Ricos", and was still pushing to open a casino in Japan.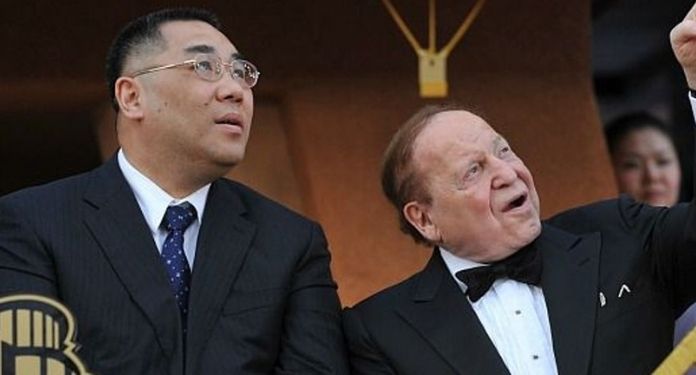 A long-standing rivalry with fellow casino mogul Steve Wynn turned into friendship when Wynn joined Adelson's efforts to end online gambling. Critics said Adelson was trying to stifle the competition.
Adelson replied that there was no way to guarantee that children and adolescents would not play and said that "I was not in favor of the exploitation of the most vulnerable people in the world".
When asked at a gambling conference about what he expected his legacy to be, Adelson said it was not his flashy casinos or hotels, but their impact on Israel. He donated $ 25 million, a record sum for a citizen, to Israel's Yad Vashem Holocaust Memorial.
Future at Las Vegas Sands
Las Vegas Sands acting CEO Rob Goldstein is expected to hold on to his new position permanently from now on. Goldstein, 64, was appointed to the position on Friday, when it was announced that Adelson was taking sick leave.
Still, analysts believe the company is ready to achieve even more success. "Adelson built a strong and loyal culture with the appointment and rise of Rob Goldstein, Wilfred Wong, Patrick Dumont, among others," said Macquarie Research analyst Chad Beynon.
He added: "We believe that the executive structure has existed for a long time and is prepared for the transition. The company's new leadership may open the door to future mergers and acquisitions, given Adelson's preference for developing assets, not acquiring them ".
The gambling industry has been one of the hardest hit during the global pandemic, with Adelson already making the decision to examine the sale of the Sands' two main hotel casinos in Las Vegas.
It was revealed in October 2020 that Sands, the world's largest casino company, was looking for potential buyers for the Venetian Resort Las Vegas and Palazzo, as well as the Sands Expo Convention Center, all located along the famous Strip.
As of June 30, Sands had a total debt of $ 13.82 billion, and reported a third-quarter loss of $ 565 million. "I have never felt more sad than I am today about what is happening in Las Vegas," said Goldstein at the time.
Control of the shares of Sheldon Adelson
Adelson was the majority shareholder in the company, currently valued at $ 37.5 billion, and the sale of the company's casinos in Vegas would have marked his departure from the U.S. gaming market and left the tycoon focused on Asia.
It is not clear who will take over Adelson's shares in the company. According to Buscando Alpha, the Las Vegas Sands controlling stake will remain with your family.