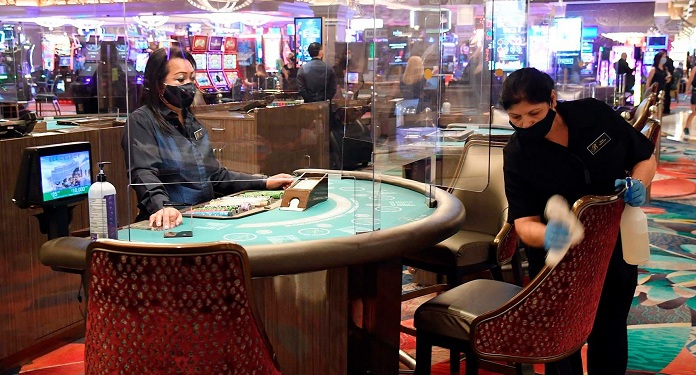 After seven months, some of the gaming rooms that operate at the Hipódromo Argentino de Palermo and the Casino Buenos Aires, located in Puerto Madero, are working again.
The opening decision was made over the weekend, after a series of negotiations between the authorities of the Lottery of Buenos Aires (LOTBA) and the city's Health Minister, Fernán Quirós.
In this first phase and in accordance with the established sanitary protocol, the rooms will be able to operate with 20% and 30% of their capacity, depending on the type of ventilation available. When it is "natural", that is, without air conditioning, there is a condition to operate with up to 30% of capacity.
New hygiene protocols for casinos in Buenos Aires
In addition, players must sign a declaration of good health as a requirement to enter the gambling rooms. While drinks or food cannot be offered to the public in the establishments.
And the machines that are operated at the Hipódromo Argentino de Palermo and at the Floating Casino, must keep a minimum distance between them.
In the case of table games, the players and the dealer must be separated by an acrylic, which avoids greater exposure. At all times, players and casino staff must wear a face mask, and people who are not betting will not be allowed into the room.
Upon entering, it will be mandatory to pass through the sanitary mats at the entrances. At each access to the game rooms, there will be a disinfection point with alcohol gel or a professional designed to disinfect the customers' hands with spray.
In the engine rooms, says the protocol, "the equipment will be completely cleaned once a shift." In addition, periodic hygiene maintenance will be carried out.
When a customer finishes playing, a casino employee will clean the sector, including the machine's contact parts. And if an employee has to access a machine in the presence of a customer, the customer must be two meters away to reach the appropriate social distance, while the employee works on the machine.
Return of gambling houses divided opinions
The decision to authorize the reopening of gambling houses was one of the most discussed by the Buenos Aires government authorities, led by Horacio Rodríguez Larreta.
The Head of Government did not want to make comparisons, for example, with the province of Chubut, where the casinos were cleared before classes returned.