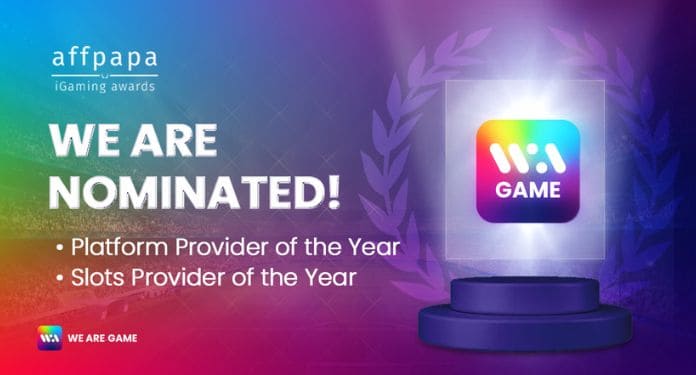 WeAreGame announces that it has been nominated in two categories at the upcoming AffPapa iGaming Awards 2023.
The illustrious second annual awards ceremony will take place at the Mediterranean Conference Center in Valletta, Malta on the 20th of June. It is the premier awards ceremony to celebrate and recognize the most influential affiliates, operators and B2B providers in the iGaming industry.
Nominated categories:
● Platform Provider of the Year ● Slots Provider of the Year
At the event, representatives from the entire sector will gather to recognize the names that stood out the most in the last year. Most of the judges will be members of AffPapa's extensive directory, handpicked for their years of knowledge and experience, making them the ideal choice to select recipients.
Tim Scoffham, CEO of WeAreTechnology Group, said: "We are thrilled to be nominated in two categories for the prestigious AffPapa iGaming Awards 2023. We are dedicated to growing our brand and establishing strong relationships with many great names in the industry. Good luck to everyone in the upcoming ceremony."
He added, "We'd like to congratulate our fellow nominees and thank AffPapa and the esteemed judges for recognizing our achievements. We'd also like to thank the entire team at WeAreGame and the WeAreTechnology Group for their combined efforts over the past year to get us where we are now.
The awards gala will be a huge success and an evening full of celebration, reflecting the tremendous achievements and successes of all participants.
About WeAreGame
WeAreGame is a leader in the iGaming industry, providing operators worldwide with state-of-the-art software, content solutions and managed services. With a strong focus on emerging markets, WeAreGame revolutionizes the online gaming landscape with flexible concepts and innovative creations.