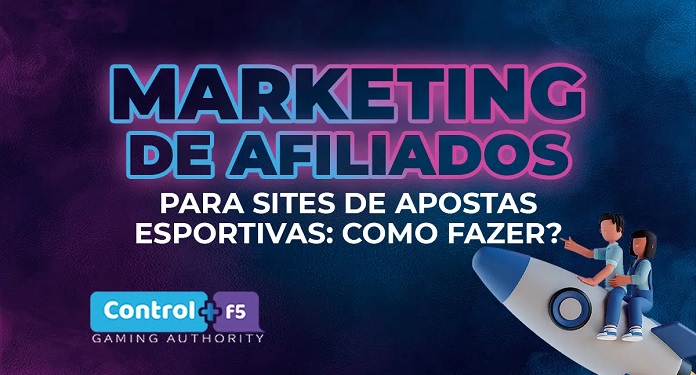 Affiliate marketing for sportsbooks is a lot of talk these days. But, how to take advantage of the advantages of this strategy so used by the gaming market? Affiliate marketing was born with the internet.
Today, the practice accounts for 15% of total digital advertising revenue, according to SoftwareFindr. The National Retail Federation also states that affiliate marketing appeared among the top forms of customer acquisition for 38% of marketers in Brazil.
Affiliate marketing numbers from abroad are also striking. Affiliate programs account for 16% of all e-commerce sales in the US and Canada, according to Business Insider.
Affiliate marketing considers four aspects: the affiliate, the company or brand, the network, and the customer. The process requires affiliates to promote the brand through various mediums. In this way, they earn a commission for every sale they make or for every customer they get. Therefore, the action benefits both affiliates and brands.
Generally, links or promotional codes identify who the partner affiliate is, and can calculate the amount corresponding to the commissions that will be paid by the online betting company. With the expansion of the betting market in Brazil, affiliate marketing is gaining more and more popularity.
What methods are affiliates used to promote bookmakers?
There are numerous ways to work affiliate marketing in practice:
Content on websites
Many professional or influential punters have successful blogs and portals, as they provide tips and strategies for other punters to improve their skills. Typically, these websites promote betting business using banners, posting news, information about promotions, products, etc.
Videos on youtube
Similar to content on websites, Youtubers also help generate quality traffic by promoting game-related items in video format and developing content on game topics, talking about websites, promotions, and more.
Ratings and Reviews
Bloggers and influencers can also write reviews about betting sites, passing on information about them and providing links to the sites, thus generating more traffic to the house.
Social media
Social media are hubs of people looking for ways to have fun. Therefore, they are exceptional channels for affiliates who work in partnership with bookmakers.
You can direct content to specific groups, forwarding it to the target audience through filters such as hashtags, groups, profiles, etc. Social networks generate awareness and traffic for brands.
E-mail marketing
When an affiliate signs up for a brand's sports betting affiliate program, they are given some links to promote. This gives companies the opportunity to track the leads that affiliation professionals bring. Thus, links that refer to the website, CTAs, promotions, service offers, etc., are included in the marketing email.
SEO
The competition is increasingly disputed to be among the first results of Google searches. In this way, bookmakers optimize their pages based on SEO principles to ensure they are found by their target audience.
How does affiliate compensation work?
Companies regularly set a commission structure (Revenue Share or Revenue Share) for new affiliates who register directly on the program's website. There are some affiliate compensation models, which are more commonly found in the market. Are they:
CPC (Cost per Click)
In this system, the visitor only needs to click on the affiliate link. But, commissions on CPC are usually much lower. It is used for the purpose of generating traffic on partner sites. In this model, it is very important to correctly assess whether the results obtained through the affiliate correspond to reality.
There are a few ways to check the reliability of clicks sent by the affiliate:
Controlling the conversion of clicks sent daily, contrasting this data with the registrations, FTD, deposits, GGR, NGR and commissions generated.
Controlling weekly the number of depositing players that the affiliate brought with its CPC campaign and at the end of it, being able to evaluate the LTV of each new player.
CPM-based agreements. As with CPC, an affiliate can "inflate" the number of impressions to speed up a pre-deal.
CPA (Cost per Acquisition)
The affiliate earns the commission only if he makes a sale. It has the mission of promoting the sale link, but only receives if the visitor completes the purchase. The perfect scenario is for the company to get to know the affiliate in advance.
You can test it for 1 month and measure in detail the results obtained to assess whether it is in the interest of the site to proceed with a CPA agreement or not.
Fixed rate based contracts
When an affiliate has a sufficiently developed website, their revenue model is based solely on selling advertising space (ad spots), articles (reviews) and other advertising media models.
Contracts based on hybrid models: Revenue Share + CPA
In these cases, what the affiliate asks for is a smaller share of revenue (Revenue Share) and a small CPA for each new FTD. The CPA should always be low enough (between $10 and $50).
Therefore, the least risky and most profitable for the bookmaker is to count on affiliates who adopt a revenue share adjusted to their income in terms of FTD, always taking into account that the absolute profit of the company is 78% of the total NGR of the player.
For your gaming company's marketing to take off, you need a company specialized in the Brazilian market. Find out what Control+F5 Gaming does for your betting site to operate successfully and safely in the Brazilian market.