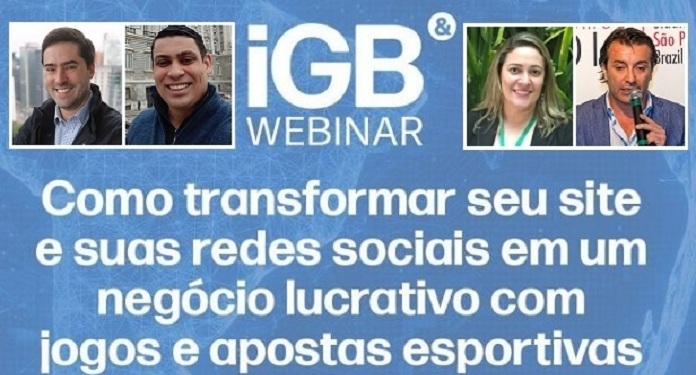 Next Tuesday, the 24th, a webinar on affiliation in the Brazilian market will be promoted by iGB in conjunction with the São Paulo Affiliate Conference (SPAC) and with support from Vista Gaming. The event is expected to start at around 2 pm and last approximately 60 minutes.
With the title "How to turn your website and social networks into a profitable business with games and sports betting", the online conference will discuss strategies for entering the betting industry and an operator's expectations of an affiliate's work.
The debate will be moderated by Alessandro Valente, Co-Founder of Super Afiliados and the participation of Pedro Lucas Trindade, CEO of Apostaonline.com, Luciana Hendrich, Founding Partner of Hendrich Digital Content, and Fábio Tibéria, international iGaming consultant.
The purpose of the webinar is to show the new industry trends to an audience that has an understanding of the basic concepts of affiliation in order to detail all the possibilities of this segment with an emphasis on the national scenario.
The panel will also deal with the following subjects:
How to enter this market. Where to start?
Apostaonline.com: a successful trajectory
Affiliate Marketing vs. Traditional Media
What does the game operator expect from an affiliate?
How to participate in the SPAC and iGB webinar?
Access to the virtual meeting will be completely free and registration can be made at this email address. Just scroll to the bottom of the page to add some personal details, such as your full name, a valid email address for contact, company and position. At the end, just click on "register" to complete your registration for the event.
Even if the SPAC and iGB webinar is free of charge, registration is essential to have access to the platform released at the time of transmission, since it will not be an open panel.
The organizers expect to gather approximately 200 people to follow the discussion about affiliates and the sports betting market in the national territory.